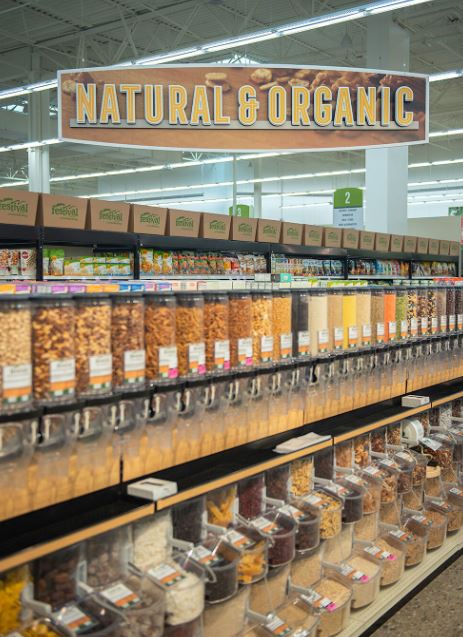 Our Mealtime Mentors have a few suggestions to get the biggest bang out of your pantry buck.
Plain Greek Yogurt: Try layering the yogurt, sweetener of choice (honey, fresh or frozen fruit, or no added sugar jelly), and granola or oats to make your own yogurt parfait. Perfect to use in recipes as a substitute for sour cream, oil, butter, mayonnaise and cream cheese. Try using in our Greek Yogurt Mac 'n Cheese recipe or as a sour cream substitute on tacos and chili.
Peanut Butter: Shelf stable and affordable source of protein and heart healthy fats. Delicious paired with fruit, especially sliced apples and pears. Peanut butter + chocolate = heaven. Especially in these Peanut Butter Black Bean Brownies
Canned Tuna: Shelf stable and affordable source of lean protein and heart healthy fats. Perfect for quick meals, like tuna melts and mac 'n cheese. Great for a protein-packed snack – just pair with whole grain crackers and veggies. Tip: choose canned tuna in water verses oil. Drain and rinse your canned tuna to get rid of extra sodium and add olive oil to your liking.
Rolled Oats: Affordable, versatile and packed with nutrition.Use to make overnight oats, trail mix, muffins, smoothies and even cookies. You can make oat flour by putting rolled oats in a blender or food processor and process until oats reach a fine, powdery consistency. You'll generally end up with about 3/4 of the volume of oats you started with. Store oat flour in a cool, dry place for up to three months or freeze for up to six months.
Blueberries: Fresh or frozen (all forms matter!), they're delicious on their own, or in smoothie bowls, salads, muffins, drinks  – you name it. Check out these seven fun ways to eat blueberries!\
Balsamic Reduction: A little sweet. A little tangy. A whole lot of flavor. Try drizzling on roasted vegetables, stuffed sweet potatoes, caprese salad and more. A little drizzle goes a long way in terms of flavor and presentation
Lemons: Adds flavor without salt. High in Vitamin C. Squeeze juice over shrimp, salmon, salad vinaigrettes, tuna sandwiches, kale chips and more.
Avocados: Packed with heart healthy, monounsaturated fats. Adds creaminess to pasta, salsa, tacos, smoothies, bowls and more.
SunButter: Free from the top eight food allergens. Especially good in Asian sauces, but may be used as a substitute for peanut butter in many recipes.
Coconut Aminos: Gluten free and lower in sodium than most tamari sauces. Use in sauces, stir-fry, bowls and more.
Curry Paste: Full of Thai flavors, like lemongrass, Thai ginger and chili. Use as a base for soup, stir-fry or with coconut milk for curry.
Udi's Ancient Grain Breads: Fun flavors like Millet-Chia and Omega Flax & Fiber Breads. Made with gluten free, ancient whole grains. Use for sandwiches, toast, or in recipes like Stuffing Bites or French Toast Casserole. 
Ghee: Butter that is simmered and strained to remove lactose and milk proteins. Stronger flavor than butter, so less is usually needed. Found in our Natural Foods Department.
Unsalted Chicken Stock: More flavor and less sodium than traditional chicken broth. Needed in many recipes and substitutes for white wine in cooking. Adds flavor to rice and recipes for soups, stews and casseroles!
Shredded Cheese: Perfect for adding to eggs, tacos, pasta, salads, casseroles and other staple dishes. Affordable and versatile. Keep a couple different varieties on hand for various dishes!
Canned Black Beans: Ready to use and versatile. They provide quick and convenient plant-based protein source for burrito bowls, egg scrambles, salads or even desserts! They're packed with fiber.
Hash browns: Potatoes are already chopped or shredded, taking the prep work out of cooking them. Convenient side dish for breakfast, lunch or dinner. Great for incorporating into hashes with other pantry staples for quick and customizable meals
Whole Wheat Pasta: Hearty, filling whole grain for plant-based meals. Cooks quickly and can be easily combined with veggies, sauces, proteins and/or cheese on hand
Frozen Chicken Breasts: Affordable and versatile – great to have on hand because many recipes can utilize chicken breast. Lean protein option. Perfect for weeknight staples like Quick Curried Chicken with Rice or Stuffed Sweet Potatoes.
Hot Sauce: Fun and flavorful way to add spice to traditional staple dishes like eggs, beans and rice, and chicken.
Milk/Milk Alternative: Staple ingredient in various recipes and rich in nutrients.
Eggs: Perfect staple for meals, whether as the main course, as an ingredient in meatloaf, or as a protein-rich topping for a seasonal hash
Olive Oil: Versatile and packed with heart healthy fats. Base for most recipes involving sauteing, roasting and marinating
Garlic/Onion: Affordable way to add flavor to a wide variety of dishes without adding salt.
Sweet Potato: Hearty and nutrient-packed vegetable that serves as a great side dish or ingredient in tacos, chili or even as an entrée. Vitamin-rich substitute for potatoes. Cooks in minutes in the microwave!
La Croix® Sparkling Water: Available in a variety of flavors. Carbonated beverages with no sodium or sugar, making them a better alternative to soda.