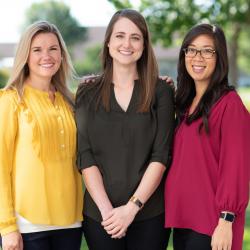 Sweet Potato & Black Bean Tacos with Avocado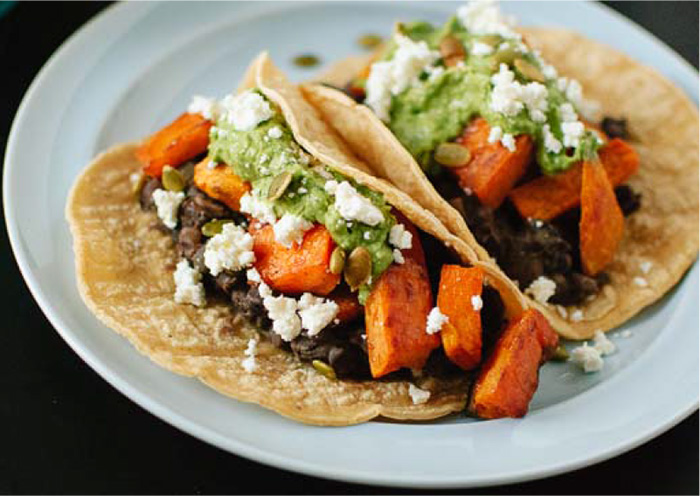 Tacos are all the rage right now and people are concocting them will all sorts of unique ingredients, including everything from fish to mushrooms! For this week's taco recipe, we are featuring meatless ingredients that provide all the flavor of the traditional ones! And what better way to celebrate the fall season than with SWEET POTATOES!? The sweetness of the potatoes pairs perfectly with the smokiness of black beans, and adding in creamy avocado and salty, crumbly cheese makes for a dish that will please just about everyone! Go ahead and give them a try – you won't regret it!
Sweet Potato and Black Bean Tacos with Avocado
Recipe adapted from Cookie and Kate
Ingredients:
1 lb. sweet potatoes (2 medium), peeled and diced in to 1-inch pieces
2 Tbsp. canola oil, divided
¼ tsp. cayenne pepper
½ tsp. sea salt, divided
1 medium yellow onion, diced
2 tsp. ground cumin
2 tsp. chili powder
1 can (15 oz.) black beans, drained and rinsed
1 can (4 oz.) diced green chiles
⅓ cup water
8 6-inch corn tortillas
1 fresh avocado, pitted and sliced
¼ cup crumbled Cotija or queso fresco cheese
Directions:
Preheat the oven to 425 degrees. Toss the sweet potatoes with 1 Tbsp. canola oil, cayenne pepper and ¼ tsp. salt. Arrange in a single layer and bake for 30-35 minutes, flipping at the halfway point, until the sweet potatoes are tender and caramelizing at the edges.
To prepare the black beans, warm remaining canola oil in a saucepan over medium heat. Add the onions and a sprinkle of salt. Cook, stirring occasionally, until the onions are turning translucent, about 4 minutes. Add the cumin and chili powder and cook for about 30 seconds while stirring. Add the cumin and chili powder and cook for about 30 seconds while stirring. Pour in the beans, green chilies and water. Stir, cover and reduce heat to a simmer. Cook for 5 minutes, then remove the lid and use the back of a fork to mash up at least half of the beans. Remove from heat, stir in the vinegar, season with remaining salt and pepper and cover until ready to serve.
To assemble tacos, place 2 corn tortillas on 4 plates. Spoon sweet potato and black bean mixtures in to each taco. Top with sliced avocado and cheese. Serve and enjoy!
Yield: 4 servings (2 tacos each)
*Per Serving: Calories 470, Total Fat 20g (Saturated 2.5g, Trans 0g), Cholesterol 5mg, Sodium 430mg, Total Carbohydrate 65g (Dietary Fiber 17g, Sugars 10g), Protein 13g, Vitamin A 280%, Vitamin C 35%, Calcium 10%, Iron 8%
Have a question about nutrition? Our Mealtime Mentors would love to help! Reach out at AskFestivalDietitians.com or find them on Facebook, Instagram, Pinterest and Twitter.

Disclaimer: The information provided here is intended for general information only. It is not intended as medical advice. Health information changes frequently as research constantly evolves. You should not rely on any information gathered here as a substitute for consultation with medical professionals. Information may not be reproduced without permission from Festival Foods. We strongly encourage guests to review the ingredient lists of suggested products before purchasing to ensure they meet individual dietary needs. All products not available at all Festival locations.