There is no doubt that people love to snack, especially around the holidays! A simple way to have a snack that everyone will enjoy is to create a grazing board. They make the perfect party platter and can also double as a beautiful centerpiece to show off to your guests. Best of all, you can include something that everyone can eat and enjoy.
If you have never made a charcuterie board or are looking for some new ideas, check out our how-to video and follow these tips for making the perfect board!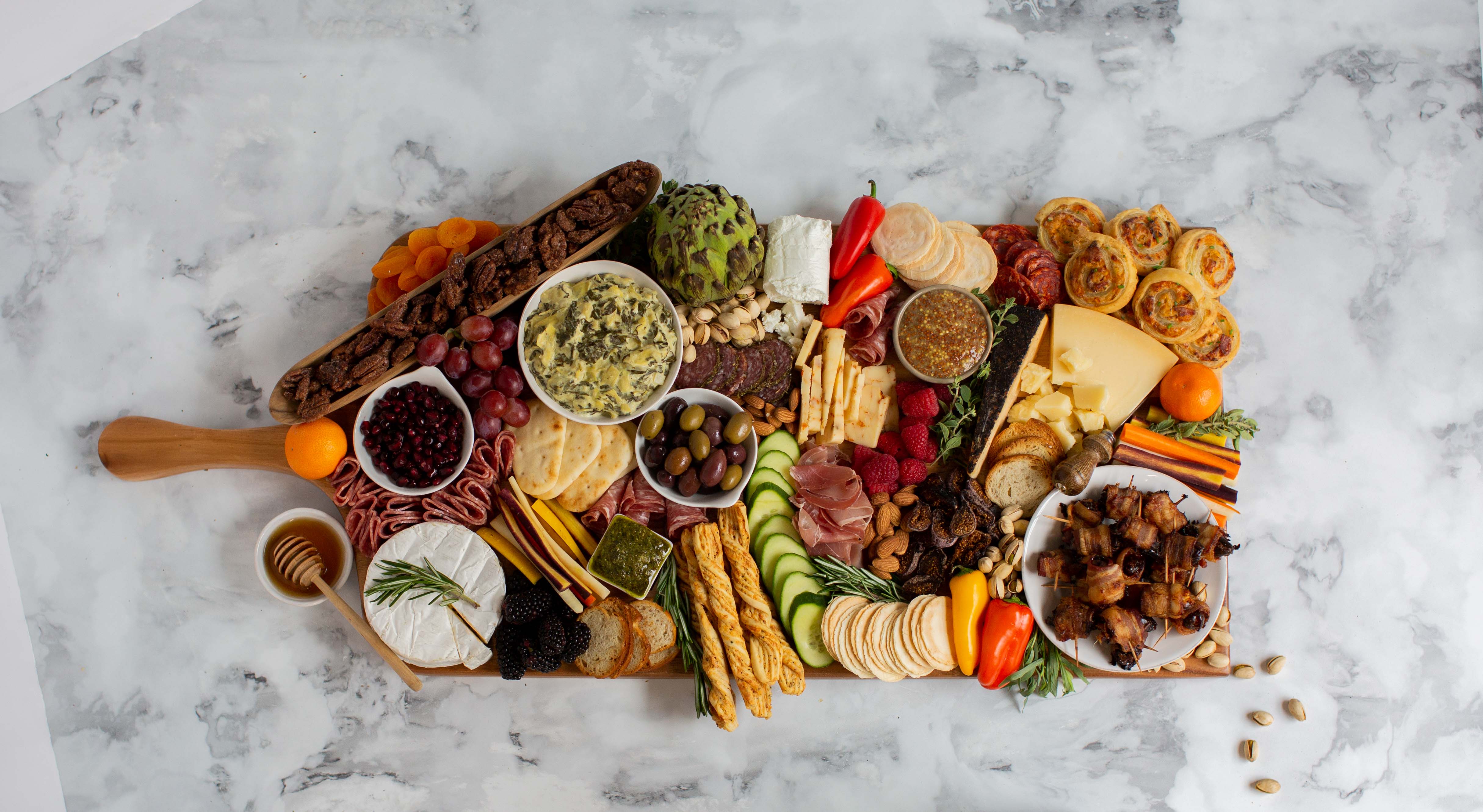 Charcuterie Board Shopping List:
Cured meats
Different textured cheeses and cheese spreads
Olives
Pickled vegetables
Seasoned/plain nuts
Fresh/dried fruit
Variety of crackers
Jellies and jams
Gourmet spreads
Chocolate
Now let's get to building!
Choose Your Serving Platter
The first thing to do before choosing your serving platter is to know how many people you are serving. It does not have to be an exact number, but this will help you pick out the right platter before building your board. The more people you have, the bigger serving platter you will need. Popular ones include live edge wooden boards, cutting boards, pottery plates, slates and serving platters. Feel free to get creative.
Cured Meats and Cheese
Traditional salami, sausage and Italian ham (or prosciutto) are among the top meats you will see on a charcuterie board. Lay them flat or roll them up to present all over your board. Be sure to include a variety to ensure something for everyone. For cheese, include a mixture of hard and soft textures. Sharp cheddar cheese, blue cheese, pepper jack cheese, smoked gouda, or a wheel of warmed brie are sure to be crowd pleasers. Spreadable cheese is also an option.
Crackers and Nuts
Use a variety of crackers that are savory and sweet. Include similar foods, such as pretzels, popcorn or mini crostinis. Next, choose which nuts you are going to include (we love these Slow Cooker Candied Cinnamon Pecans) and scatter them around the board or place small ramekin dishes on the board and fill with different nuts.
Fruits and Vegetables
Fruits and vegetables are a great way to add pops of color to a charcuterie board. Typically, people use berries and dried fruits, like figs and apricots, because they are smaller and you do not have to cut them up, which prevents browning. However, choose your favorites. Sliced apples would be a wonderful addition and pair great with caramel or hazelnut dip. Another way to be creative is to use dried fruit chips. You can purchase these or make your own. Some examples include dried mango and banana chips. Vegetables, like carrots, snap peas, cucumbers and bell peppers are another great base for dips and spreads. Fruits and vegetables are a great option for family members or friends who do not eat meat or dairy.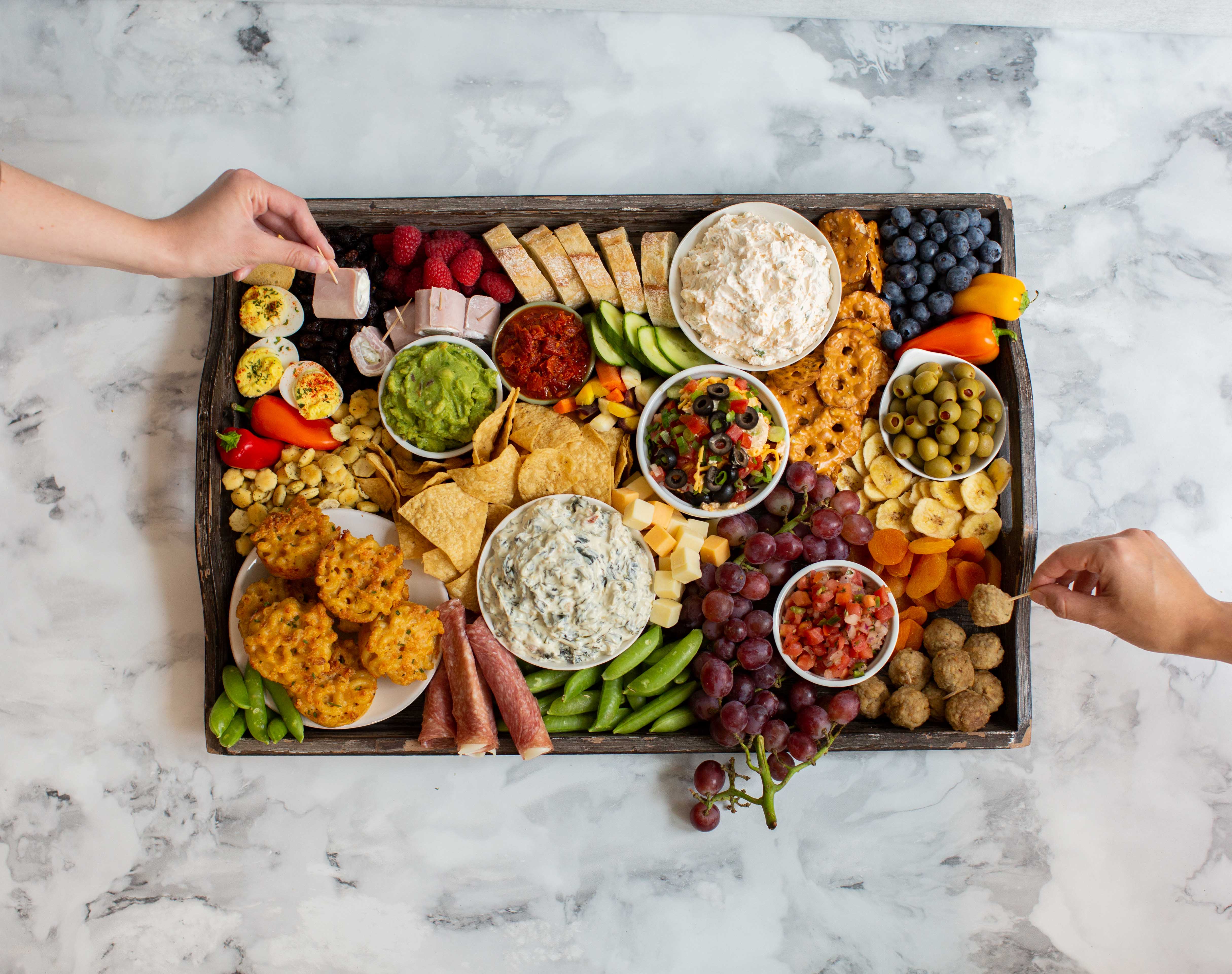 Gourmet Spreads and Dips
This is the fun part! There are a million and one spreads and dips you can use, so you can't go wrong with anything you chose. Whether you have a family recipe for a favorite dip or buy one at the store, it will pair well with something on your board. If you have no idea where to start, we can help. Jams and jellies are a simple, yet delicious spread to top on crackers or bread. Crowd favorites during the holidays include orange marmalade, spiced cranberry and blueberry jams. Other fun spreads include basil pesto, spinach dip and hummus.
Olives, Pickled Vegetables and More
Fill in the board with olives and pickled vegetables. Oh, and don't forget dessert! Little chocolate chips, truffles or mini candy bars complete the board and give it a little touch of something sweet.
Charcuterie boards are not only tasty but also pretty to look at with the variety of food and color being displayed. Be sure to fill your board completely to impress your guests, and don't forget to snap a picture of your masterpiece when it is complete!
Here are two simple board ideas to get you started:
Have a question about nutrition? Our Mealtime Mentors would love to help! Reach out at AskFestivalDietitians.com or find them on Facebook, Instagram, Pinterest and Twitter.
Disclaimer: The information provided here is intended for general information only. It is not intended as medical advice. Health information changes frequently as research constantly evolves. You should not rely on any information gathered here as a substitute for consultation with medical professionals. Information may not be reproduced without permission from Festival Foods. We strongly encourage guests to review the ingredient lists of suggested products before purchasing to ensure they meet individual dietary needs. All products not available at all Festival locations.