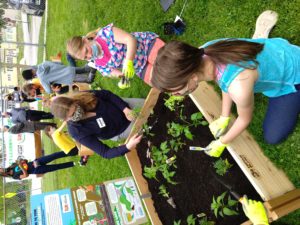 Dole Packaged Foods and Festival Foods installed a Captain Planet Foundation Learning Garden at Sheboygan Leadership Academy this month. 
The Project Learning Garden, with 80 square feet of growing space, includes a garden cart and hand tools. The garden  provides a context for multidisciplinary learning, ranging from nutrition and science to social studies, math and language arts.
Students benefit by expanding their palates, taste-testing healthy foods, and learning about food origins; engaging in authentic science field investigations; manipulating the environment to understand math in real-life applications; recreating historical activities; and writing across all these disciplines.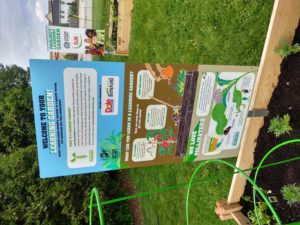 Based on the critically-acclaimed animated series "Captain Planet and the Planeteers," CPF was co-founded in 1991 by media mogul Ted Turner and producer Barbara Pyle. Since then, the Captain Planet Foundation has played a critical role in helping to ensure that the next generation of business leaders and policy makers are environmentally literate citizens who leverage technology and information to manage and protect the air, land, and water upon which all life depends.
CPF is a grant-making foundation that has funded over 2,000 hands-on environmental education projects with schools and non-profits that serve children in all 50 U.S. states and in 23 countries internationally. More than 1.4 million children have directly participated in and benefited from these educational projects.  In addition to its Small Grants Program, the Captain Planet Foundation also operates the following programs: Project Learning Garden, the Leadership Center, SAGES, Project Hero, and many other science education initiatives that accelerate the intersections between technology, innovation, the environment and personal action.  More information is online here.