Food pantries and animal shelters across Wisconsin received more than $228,000 in donations from Festival Foods' guests
At Festival Foods checkouts throughout Wisconsin, shoppers have an opportunity to support local food pantries and animal organizations by simply adding a donation to their grocery totals.
Two programs unique to Festival Foods – Food for Neighbors and Paw Away Hunger – have raised nearly $1.8 million to date, with donations in 2018 of more than $228,000. That's a 36 percent increase from the previous year's total of $167,000.
One hundred percent of all donations to these programs stay in the communities where they were collected. Currently in Wisconsin, 38 food pantries and 30 Wisconsin animal organizations benefit from the two programs.
We began Food for Neighbors in 2004, followed in 2008 by the addition of Paw Away Hunger to help animal organizations in the state. Both programs offer shoppers a chance to purchase $5 or $10 donation cards. Donation cards are available at registers and in the canned food and pet food aisles. Shoppers simply present cards to the cashier during checkout and the donation will be added to their grocery total.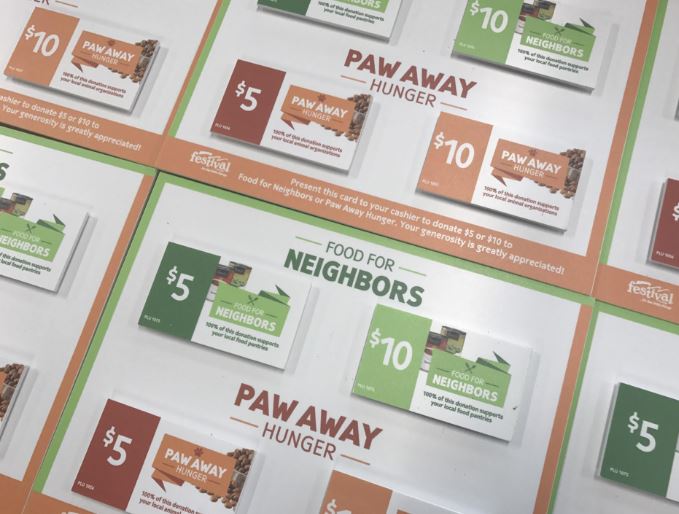 "These programs show that small donations can add up to a huge impact," said Mark Skogen, president and CEO of Festival Foods. "Our guests are making a positive impact in their local communities with every contribution to Food for Neighbors and Paw Away Hunger."