Spicy Nutcracker Pecan Cookies featuring Door County Coffee
Our friends at Door County Coffee have come up with a delicious cookie recipe that has the coffee INSIDE the dough. Cookies with Door County Coffee's Spicy Nutcracker blend is the perfect way to holiday.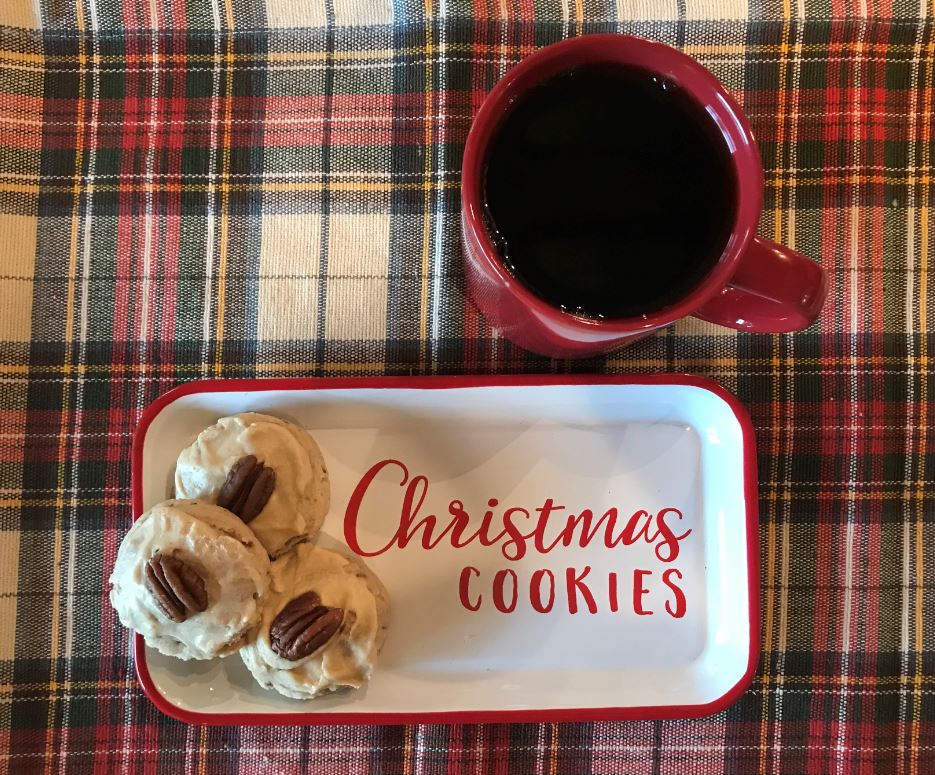 Cookies and coffee just go together, right? Our friends at Door County Coffee have a delicious cookie recipe that has the coffee INSIDE the dough. You've got the taste it to believe it. The recipe, by Carrie Sherrill from Forestville, Wisconsin, features Door County Coffee Spicy Nutcracker Coffee, which you can find in 8 ounce bags in our stores.
INGREDIENTS (makes 2 dozen cookies)
Cookie Dough
1 C. Butter at room temperature

1/3 C. Sugar

2 Tbls. Strong-brewed Spicy Nutcracker Coffee (keep remainder of coffee for icing)

1 tsp. Vanilla Extract

1 tsp. Rum Extract

1/2 tsp. salt

1/4 tsp. cinnamon

1/2 C. finely chopped, toasted pecans

2 1.2 C. Flour
Icing & Garnish
2 Tbsp. Soft Butter

1 C. Powdered Sugar

1 1/2 Tbls. reserved strong brewed Spicy Nutcracker coffee

Toasted Pecan Halves
INSTRUCTIONS:
Preheat Oven to 325 degrees

Toast 1 C. pecan halves on baking sheet in 325 degree oven for 10 minutes. Remove from oven. Once cooled, chop 1/2 C. pecans finely. Set aside. Leave remainder of pecan halves, whole.

Steep 3 Tbls. Spicy Nutcracker coffee in 1/2 c. boiling water. (Pour water over grounds and cover for 5 minutes) Strain. Cool to room temperature. Set aside.

In large mixing bowl, beat butter until creamy. Add sugar, coffee, vanilla & rum extracts. Beat until incorporated.

Mix salt & cinnamon with flour & add gradually to wet ingredients in large mixing bowl.

Stir in chopped pecans.

Drop by rounded tablespoons onto parchment lined baking sheet and press down slightly to form 1 3/4″ rounds.

Bake at 325 degrees for approx. 20 minutes until bottoms are lightly browned. Cool on wire rack.

While cookies are baking, prepare icing

Beat 2 Tbls. butter until creamy. Add powdered sugar. Mix well. Add reserved coffee.

Frost cooled cookies and garnish with a toasted pecan half.