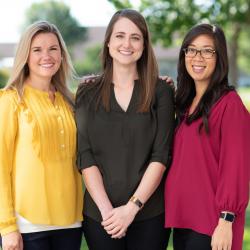 Roasted Delicata Squash & Red Onions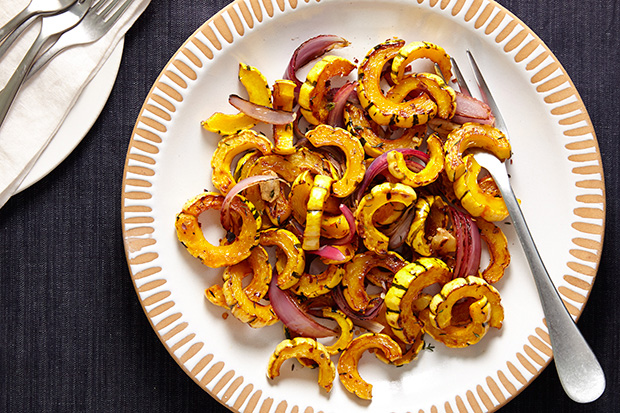 Have you ever tried delicata squash? If not, this is the recipe for you! This nutritious and naturally-sweet veggie is unique in that unlike other winter squash, delicata's softer skin is delicate enough to be enjoyed after roasting. The result: a sweet, caramelized inside with just a hint of chew from the colorful skin. And, when it's off-set by the slight bite of roasted red onions, like in today's simple side … pure deliciousness!
Roasted Delicata Squash & Red Onions
Picture and recipe adapted from Epicurious and Cooking Light, respectively.
Ingredients:
1 Tbsp. unsalted butter, melted (or olive oil for dairy free or vegan)
1 tsp. dried thyme
1 Tbsp. maple syrup
1 Tbsp. olive oil
3 garlic cloves, minced
2 medium delicata squash, halved lengthwise, seeded, and cut into ½-inch slices
1 medium red onion, cut into 12 wedges
Cooking spray
Salt and pepper, to taste
Directions:
Place a baking sheet in the oven. Preheat oven to 475°F leaving the pan inside to warm.
Whisk together butter, thyme, maple syrup, olive oil and garlic into a large bowl. Add squash and onion; toss to coat.
Carefully remove preheated baking sheet from oven; coat with cooking spray. Place vegetable mixture in a single layer on pan.
Bake for 20 minutes or until tender, turning once. Season with salt and pepper and serve warm.
Yield: 6 Servings *Per Serving: Calories 90, Total Fat 4.5g (Saturated 1.5g, Trans 0g), Cholesterol 5mg, Sodium 0mg, Total Carbohydrate 14g (Dietary Fiber 3g), Protein 1g, Vitamin A 110%, Vitamin C 20%, Calcium 4%, Iron 4% *Nutritional values are an approximation. Actual nutritional values may vary due to preparation techniques, variations related to suppliers, regional and seasonal differences, or rounding.
Emily Schwartz is a Registered Dietitian Nutritionist (RDN) with Festival Foods.