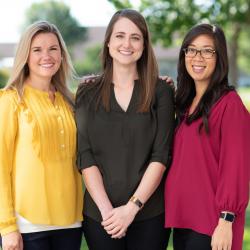 RD's Hot Dish: BBQ Pulled Chicken
Barbecue chicken is a staple dish in my household, whether it's made into sandwiches, repurposed into BBQ Chicken and Apple quesadillas, or smothered on top of a pizza crust to make BBQ Chicken and kale pizza- it's definitely a sweet and savory favorite! Even better is the fact that with this recipe, you can literally toss all of the ingredients into the slow cooker and get on with your to-do list! 🙂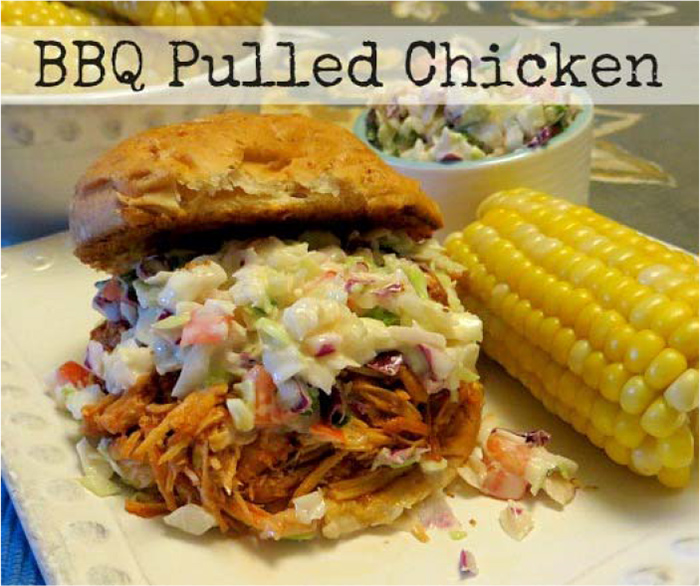 Does anyone else feel like life has kicked into over-drive? Talking with family, friends, and co-workers it sounds like everyone has a jam-packed summer of weddings, graduation parties, outdoor activities, and fun getaways planned on top of their ever-packed work week! With all of that hustle and bustle I realized that a quick-and-easy slow cooker recipe might be in need. Barbecue chicken is a staple dish in my household, whether it's made into sandwiches, repurposed into BBQ Chicken and Apple quesadillas, or smothered on top of a pizza crust to make BBQ Chicken and kale pizza- it's definitely a sweet and savory favorite! Even better is the fact that with this recipe, you can literally toss all of the ingredients into the slow cooker and get on with your to-do list! 🙂 To get started, we're going to make the tangy yet slightly sweet barbecue sauce. In your slow cooker, mix together one 8 oz. can of tomato sauce with 2 Tbsp. + 2 tsp. each of cider vinegar and brown sugar, a tsp. of minced garlic (or 2 tsp. garlic powder), and a ½ cup of ketchup. Boom! Your barbecue sauce is ready to cook down into scrumptious deliciousness.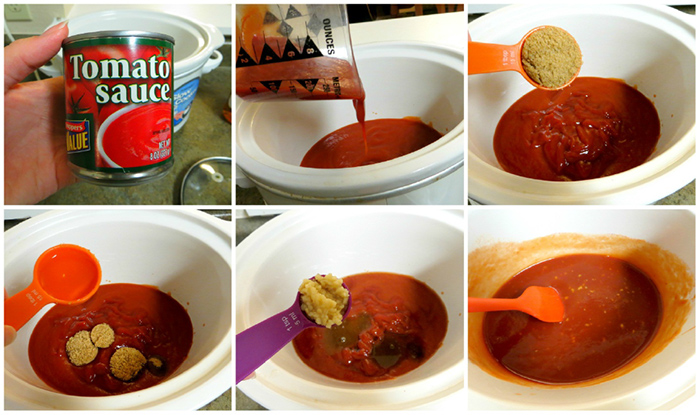 Now, add your chicken breasts to the sauce and smother until well covered!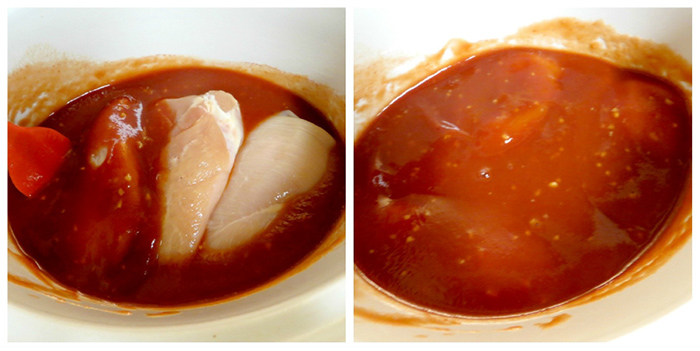 Cover and cook on low for 7-8 hours or on high for 3-4 hours.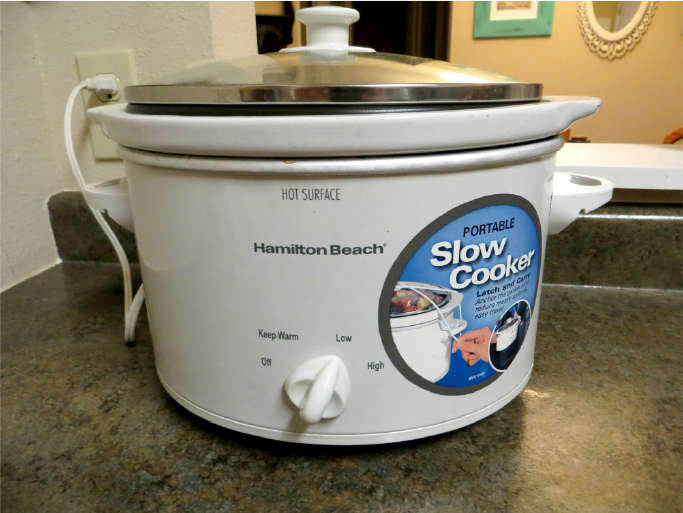 After your crock pot has done all the work for you and your chicken has reached an internal temp of 165⁰F, "pull" or shred the chicken. Two forks work great for this step!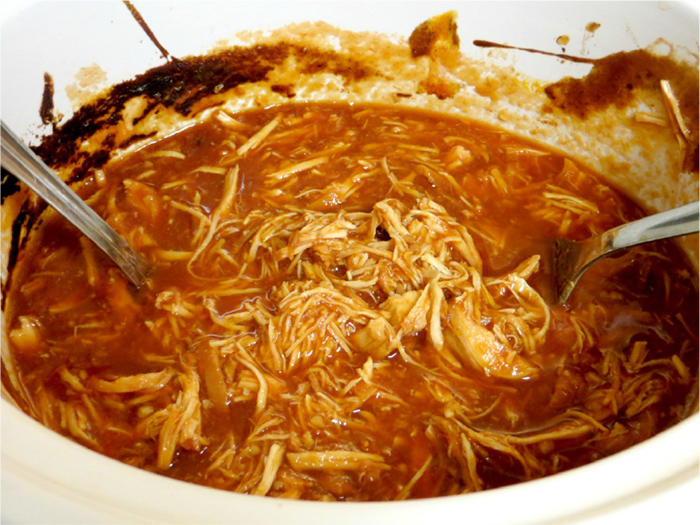 Mound a generous scoop of BBQ Pulled Chicken on a toasted whole grain bun (I definitely recommend our multigrain buns from our Bakery) and slather a scoop of our Eat Well Summer Cabbage Salad right on top! The crunchy cabbage and creamy, cool dressing of the salad delectably complement the sweet tang of the barbecue sauce. Finish it off by adding a side of steamed corn on the cob and fresh apple slices for a truly easy summer meal!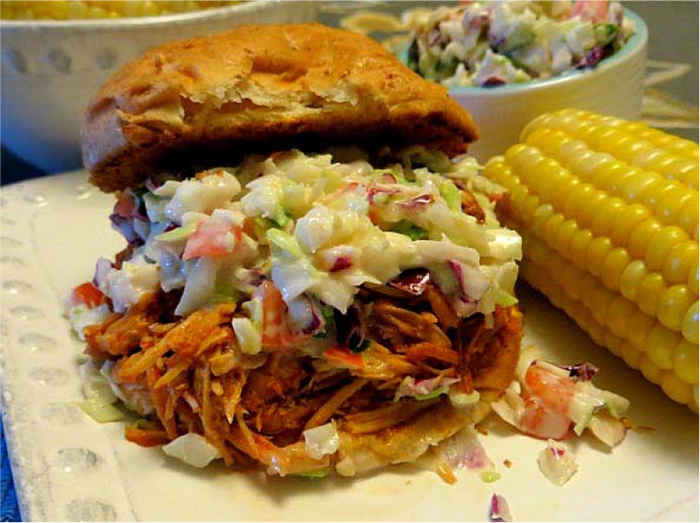 BBQ Pulled Chicken Sandwiches
Ingredients
1½ lbs. Plain Dad's Chicken Breasts
1 8oz. can (1 cup) tomato sauce
½ cup ketchup
2 Tbsp. plus 2 tsp. brown sugar
2 Tbsp. plus 2 tsp. cider vinegar
2 tsp. garlic powder or 1 tsp. minced garlic
Preparation
Place all ingredients except the chicken in the crock pot. Stir until mixed.
Add the chicken and coat well with the sauce.
Cover and cook on high for 3-4 hours or on low for 7-8 hours.
Layer chicken on a whole grain bun and top with Summer Cabbage Salad, if desired!
Have a question about nutrition? Our Mealtime Mentors would love to help! Reach out at AskFestivalDietitians.com or find them on Facebook, Instagram, Pinterest and Twitter.
Disclaimer: The information provided here is intended for general information only. It is not intended as medical advice. Health information changes frequently as research constantly evolves. You should not rely on any information gathered here as a substitute for consultation with medical professionals. Information may not be reproduced without permission from Festival Foods. We strongly encourage guests to review the ingredient lists of suggested products before purchasing to ensure they meet individual dietary needs. All products not available at all Festival locations.