Pumpkin Blowout: From the pumpkin patch to you
For us at Festival Foods, Pumpkin Blowout, is about saying thanks to you, our guests, for shopping with us throughout the year. We'll start with 90,000 pumpkins at our stores across the company for the event.

Pumpkin Blowout is our annual fall festival, but it's about more than just picking out the perfect jack-o'-lantern. It's about freshly pressed apple cider and corn stalks and oddly shaped gourds. It's about celebrating the amazing colors of fall produce — the oranges, greens and yellows of pumpkins, peppers and squash. It's about the bright fall sunshine, blue skies, white clouds and the crisp fall air. It's about seeing how tall your kids are this fall.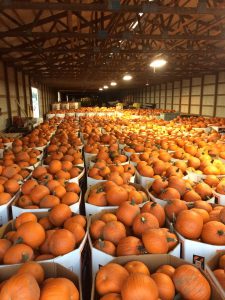 They're ready for delivery at the Jandt Family Farm.
And it's about us at Festival Foods saying thanks to you, our guests, for shopping with us throughout the year. We'll start with 90,000 pumpkins at our stores across the company for the event.
We're saying thanks by stocking up on amazing fall harvest produce for Pumpkin Blowout. The event is set for 8 a.m. to 5 p.m. on Saturday, Oct. 3, at most of our locations across the state. Our four La Crosse area stores will host Pumpkin Blowout from 8 a.m. to 5 p.m. on Oct. 10. Bringing the kiddos for all the fun activities we have? Those will be up and running from 9 a.m. to 3 p.m. That produce is delivered daily by our neighbor growers. We work throughout the year to develop relationships with farmers across the state to bring you picture-perfect produce at the peak of freshness. Of course we know who to go to for the tried-and-true Wisconsin-grown items, including green beans and cabbage and peppers, but we also work with our farm partners to grow new and different items.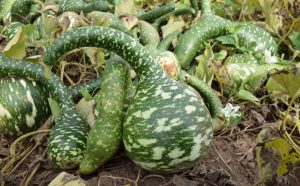 Goose neck squash, something Dr. Seuss would design for fall decorations.
An item that has been making an appearance at our Pumpkin Blowout in recent years is the Dr. Seuss-esque goose neck squash, which has received rave reviews from guests, according to Andrew Brehmer, Produce Supervisor for Festival Foods. Guests are using the item for everything from decorations to bird houses after Halloween. Gary and Val Jashinsky, who own and operate Vallei Farms located about 40 miles north of Green Bay, have grown goose neck squash for Festival Foods for the past few years. And that's just a fraction of the produce the farm is growing for our stores in the region including our Green Bay locations as well as Eau Claire, Mount Pleasant, Neenah, Appleton-Northland, Darboy and Suamico.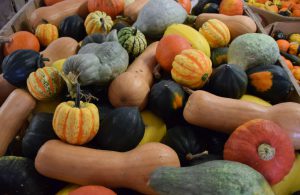 Our long relationship with Vallei Farms means getting peak produce into our stores just after it has been picked. The farm does it all and Gary easily rattles off the produce that goes directly from his farm to our stores: "Sweet corn, green beans, yellow beans, cabbage … pretty much the produce section of the grocery store," he told us. Altogether, Vallei farms 450 acres and 350 of that grows produce. Acreage just for pumpkins? Seventy. Gary and Val started the farm in 1992 as a hobby with a local stand, picking cucumbers for a pickling company because their kids — who were young at that time — wanted to make a little extra money. And, just like crops in the fields, the farm grew. "Now we've got two semis, four reapers and we deliver all of our own produce and pumpkins," he said.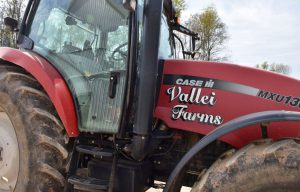 Gary said he named the farm after the two women in his life: wife Val and daughter Leigh.
Our visit to Vallei was especially serendipitous because it was the need for pumpkins back in the mid 1990s that brought Festival Foods to Gary and Val's farm. "It was '96 or '97 and it was the fall and they were in a bind for pumpkins and that's how it started." And now we're starting great relationships with growers in southeastern Wisconsin, including Schroeder Produce in Cambridge. The fourth-generation farm supplies produce, including pumpkins, for our store in Fort Atkinson. And we're thrilled to also offer their pumpkins for Pumpkin Blowout at our Janesville location on Oct. 3 even though that store won't open until the end of the month. Our guests in that area will get to experience all the fun of Pumpkin Blowout and get an inside look at the store.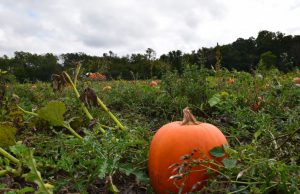 Farmer Richard Schroeder in little Cambridge, Wisconsin, also noted the great growing conditions of 2015 and he said he is looking forward to finishing the fall harvest with a solid-looking pumpkin crop.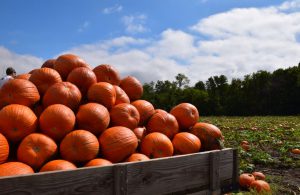 Schroeder Produce also will be supplying our store in Madison with their colorful range of produce, including peppers, tomatoes and strawberries.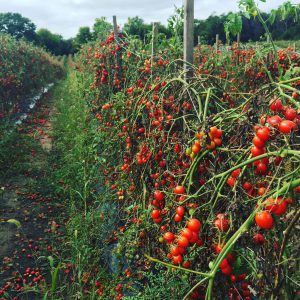 How 'bout them roma tomatoes?