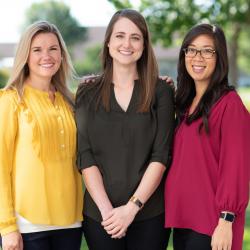 Maple-Dijon Chicken with Brown Rice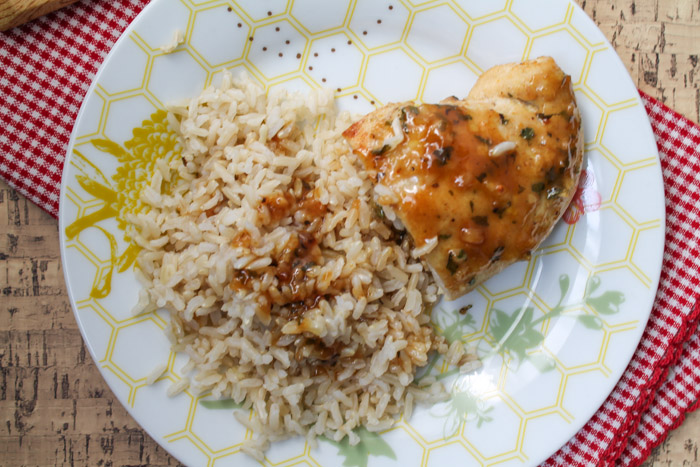 In my opinion, maple and Dijon go together like peanut butter and jelly. And, what better way to use this flavor-rich combo than on protein-packed chicken breast? Paired with nutritious, and naturally whole-grain, brown rice, this savory Maple-Dijon Chicken will not only please your taste buds, but keep you feeling fuller, longer. Make this chicken and rice dish a complete meal by serving with a simple steamed veggie, like green beans, and sliced fresh fruit, like pears.
Maple-Dijon Chicken with Brown Rice
Photo adapted from The Honour System blog
Ingredients:
¼ cup Dijon mustard
¼ cup maple syrup
⅛ tsp. salt
¼ tsp. pepper
1 Tbsp. dried parsley, optional
Nonstick cooking spray
4 boneless, skinless chicken breasts
1 tsp. minced garlic
4 slices cooked turkey bacon (like Godshall's®), chopped
2 cups cooked brown rice (like Bird's Eye® Steamfresh® Whole Grain Brown Rice)
2 tsp. cider vinegar
1 tsp. dried sage, optional
Directions:
Whisk together Dijon mustard, maple syrup, salt, pepper and parsley in a small bowl; set aside.
Coat a medium frying pan with nonstick cooking spray. Add chicken and cook over medium heat until outside is golden brown and an internal temperature of 160°F is achieved. Place chicken on a platter and brush with maple-mustard mixture.
In now-empty pan, add garlic and turkey bacon and cook over medium-high heat for about 1 minute, or until garlic becomes fragrant. Stir in cooked brown rice, vinegar and sage and continue to cook until everything is warm.
Serve chicken with rice mixture.
Yield: 4 servings *Per Serving: Calories 340, Total Fat 5g (Saturated 1g, Trans 0g), Cholesterol 85mg, Sodium 650mg, Total Carbohydrate 39g (Dietary Fiber 2g, Sugars 12g), Protein 32g, Vitamin A 0%, Vitamin C 0%, Calcium 4%, Iron 8% *Nutritional values are an approximation. Actual nutritional values may vary due to preparation techniques, variations related to suppliers, regional and seasonal differences, or rounding.
Have a question about nutrition? Our Mealtime Mentors would love to help! Reach out at AskFestivalDietitians.com or find them on Facebook, Instagram and Twitter.