Holiday Entertaining and Gift Giving Ideas
By Lisa Gee, Wine and Spirits Manager Green Bay West Mason
Our Festival Wine & Spirits experts can help you make the most with entertaining and gift ideas this Holiday season. If you are looking to buy local, our stores carry several local holiday wines such as Von Stiehl's Christmas Red & Christmas Blush; Door Peninsula Christmas Red, Christmas White & Mulled Wines; & Three Lakes Holiday Harvest. Check your favorite Festival Foods location to see what Holiday wines we currently have in stock. Another holiday favorite is Gluhwein, a German winter version of Sangria, and which is traditionally served warm.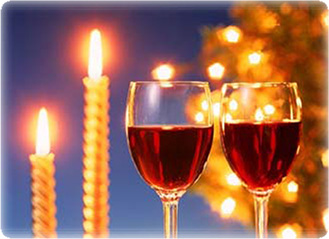 Our exclusive line of SKS Estates wines is also perfect for your holiday parties & meal pairings! These wines are created for Festival Foods by Von Stiehl Winery in Algoma, & feature the best-selling Sapphire Riesling; Diamond Chardonnay; Silk; & Ruby Cabernet. Also popular this holiday season are sparkling sweet Italian wines, such as Moscato D'Asti & Prosecco. We have several types available in our Italian section; try toasting the holidays with these fun sparkling alternatives! We also have a large selection of champagnes and sparkling wines as well. As always, when you purchase 6 bottles of wine or champagne, you receive our 10% wine 6-pack discount! (Some advertised sale-priced wines may be excluded from the 10% 6-pack carrier.) We also carry a selection of non-alcoholic sparkling juices so the kids can celebrate too! Now through December 30 we are featuring a fine Scotch sale program. Many favorite types of Scotch are included in this special sale, including Johnny Walker Blue Label. There are also gift trial packs included with this sale. This is a great gift opportunity for the Scotch lovers on your Christmas list!
We also have specialty Scotch gift sets available while supplies last.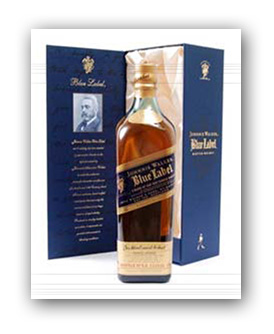 Our stores carry a varied selection of holiday gift sets featuring some of our most popular liquor name brands: Crown Royal, Jack Daniels, Bailey's Irish Cream, Maker's Mark, & Rum Chata to name a few. Selections may vary by store location.
Hurry—gift sets are limited quantities while supplies last!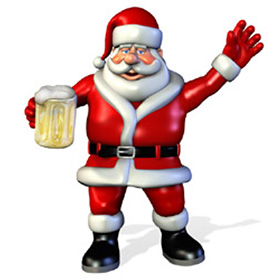 Don't forget the beer lover on your list! We have an extensive craft & import beer selection which features many seasonal winter beers & variety packs. One of our most popular gift ideas is our Mix & Match 6-pack beer selection—create your own custom 6-pack featuring a huge variety to choose from! Holiday beer steins are also available while supplies last. There are some great holiday dessert ideas using some of our most popular liquor items this time of year and we would like to share some of our favorites with you. Be the hit of the party with these yummy dessert options!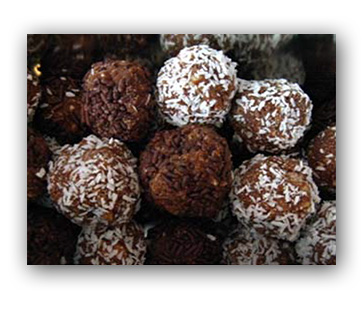 Rum Or Bourbon Balls
Ingredients: 3 cups crushed vanilla wafers ¾ cup powdered sugar ¼ cup unsweetened cocoa powder 1 ½ cups finely chopped pecans 1 tsp vanilla extract 3 Tbsp light corn syrup ½ cup Bacardi silver rum or Jim Beam Bourbon Additional powdered sugar or sprinkles Directions: In a large bowl, stir together the crushed vanilla wafers, ¾ cup confectioner's sugar, cocoa, & nuts. Drizzle in vanilla, corn syrup & rum/bourbon. Scoop & shape into 1 inch balls or larger. Roll Rum Balls in additional powdered sugar or sprinkles. Store in an airtight container in the refrigerator for several days to develop the flavors.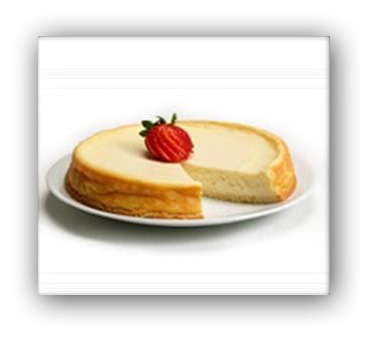 Rum Chata Cheesecake:
Ingredients: 15 graham crackers crushed 2 Tbsp butter melted 32 oz cream cheese softened 1 ½ cups sugar ¾ cup Rum Chata Rum Cream 4 eggs 1 cup sour cream 1 Tbsp vanilla extract ¼ cup flour Optional topping—glazed strawberries or cherry pie filling Directions: Preheat oven to 350 degrees. Grease a 9" spring form pan. In bowl mix graham cracker crumbs & melted butter. Press into bottom of pan. In large bowl mix cream cheese with sugar until smooth. Slowly blend in Rum Chata & eggs. Mix in sour cream, vanilla & flour until smooth. Pour filling over prepared crust. Bake for 1 hour. Turn off oven & let cake cool in oven with the door closed for 5 to 6 hours to prevent cracking. Chill in refrigerator until ready to serve. Top with dollops of glazed strawberries or cherry pie filling to finish.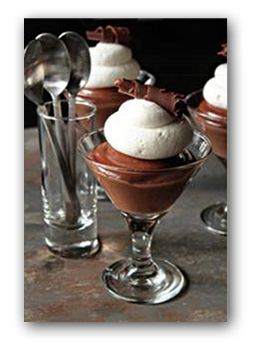 Bailey's Caramel Irish Cream Mousse:
Ingredients: 3 egg yolks ½ cup sugar ½ cup sifted cocoa 2 Tbsp Bailey's Caramel Irish Cream (or can use any of the Bailey's flavors) 2 cups heavy whipping cream ¼ tsp vanilla extract. Directions: In a medium bowl beat egg yolks & sugar until blended thoroughly. Beat in cocoa & Bailey's. In a different bowl whip cream & vanilla until it holds stiff peaks. Stir in approximately ½ cup of the whipped cream to lighten the cocoa. Fold in remaining mixture gently. Divide into servings & chill 1 hour. Serve with a dollop of whipped cream. Lastly, here are some ideas to end your holiday entertaining experience and create a good nightcap for your guests. Using instant hot chocolate packets, you can make some wonderful hot toddy's by adding a shot of Bailey's, Peppermint Schnapps, Rum Chata, or Kahlua to your mug before mixing up the hot chocolate and topping off with hot water. Add a dollop of whipped cream on top and drizzle with chocolate syrup. You can also add a shot of Bailey's or Kahlua to coffee and top with whipped cream. What would a holiday be without a Tom & Jerry? Our Bakery makes homemade Tom & Jerry batter—just add your own rum or brandy, the easy recipe is right on the package for you! We also have Christian Brothers Egg Nog while supplies last.
Festival Foods wishes you & your family a Happy Holiday Season! Cheers!