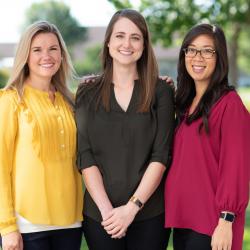 Go Bananas for this Ice Cream Alternative!
Do you like ice cream? Are you trying to get you children, or maybe yourself, to eat more fruit? Do you ever have over-ripe bananas sitting on your kitchen counter?
If you answered "Yes," to any of these questions, this post is for you! I wanted to share this recipe for Chocolate Banana "Ice Cream" with all of you as a nutritious, lower fat alternative to ice cream.
Bananas are a great food to have on hand. They are nutrient-rich, sweet, non-fat, and a great source of potassium and fiber. They also help to improve the body's ability to absorb calcium! So next time you are at the store, stock-up on plenty of bananas—you'll want them over-ripe for this recipe. This is a delicious way to increase your fruit intake!
Here's What You Will Need:
1 Banana, frozen cut in pieces (about 1 cup)
2 Tbsp Vanilla non-fat yogurt
½ tsp Unsweetened cocoa powder
1 Tbsp Honey (optional)
Directions:
Place all ingredients in a blender or food processor and purée on high. Serve immediately or place in individual serving dishes and store in the freezer.
Nutrition Info:
Note: Recipe makes 2 servings.
Serving Size: ¾ cup; 100 calories, 0g fat, 30mg sodium, 25g carbohydrate, 2g fiber, 3g protein.