Give the Gift of Food Safety!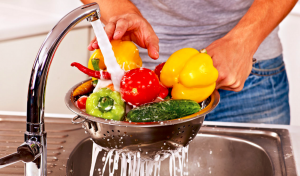 At Festival Foods we like to focus on our guests' safety as much as we do on the quality products we offer. That's why we're helping you give the gift of food safety! During the holidays is when it's even more important to focus on this — there are tons of people at your house, everything can be chaotic, you want to make sure your dinner is on time … the list goes on and on.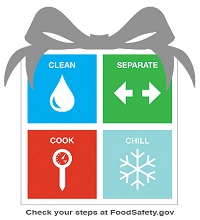 We've outlined a couple items you can pick up in our stores to keep on top of basic food safety rules to keep you and all your holiday guests safe: Kitchen Towels: As my mom always says, "you can never have enough towels!" You should always be switching out towels to ensure pesky bacteria aren't hitching a ride on them. Clean towels = clean hands and happy food. Cutting Boards: Having colored cutting boards at your disposal is extremely important. Plastic cutting boards are the easiest to clean and by having numerous colors you can distinguish which are used for raw meats and which should be used for vegetables. Never use the same cutting board twice when preparing raw meats and vegetables. Thermometers: Never underestimate the importance of a good food thermometer. Even the most seasoned chefs utilize food thermometers constantly. Using the color of the meat as an indicator is risky, and one should always have a food thermometer handy when cooking meats. Keep in mind that a sharp knife makes for a safer knife! Need your knives sharpened? We can help with that too! We offer free knife sharpening at all of our locations in our Meat Department. Drop them off, shop, and they'll be ready to go by the time you're done. From our Festival family to yours: we hope your holiday season is a safe one!