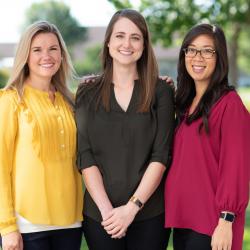 Fresh Ideas for Your Grill
School is officially out for the summer and so are grills for most people! When you hear the words grill or cook out, foods that often come to mind are proteins – burgers, brats, steaks, chicken, and fish.  Some people like to talk about their favorite grilled vegetable recipes, but rarely do I hear people talking about their favorite grilled fruit. If you've never tried fruit on the grill before, I highly recommend it!
Almost any fruit can be grilled. The best fruits for grilling are firmer fruits such as pears, pineapple and apples. Softer fruits such as plums, mango, peaches and bananas work great too, but they should be slightly under-ripe.  It is best to leave the peel on for most fruits as it helps to hold them together. When it comes to putting the fruit on the grill:
Citrus fruits, pineapple and melon can be sliced or cut into wedges.
Fruits such as peaches and plums should be halved.
Smaller fruits such as strawberries and apricots should be skewered so that they do not fall through the grate.
Add flavor to the fruit by rubbing with spices such as cinnamon, nutmeg, or ginger mixed with a small amount of brown sugar before grilling. Another option is to mix the spices with a bit of melted butter, and use the mixture to lightly coat the fruit on the grill.
Grill the fruit over a clean medium-hot grill. Grill smaller and softer fruit for 4-5 minutes and larger or former fruit for 6-10 minutes. Turn the fruit over when the underside is golden brown with grill marks.
Bananas are my favorite fruit, and they are awesome on the grill! Below is a basic recipe concept from Dole® that allows each family member to build their own "banana boat!"
Finally, if you like to grill, keep an eye out for next week's ad!