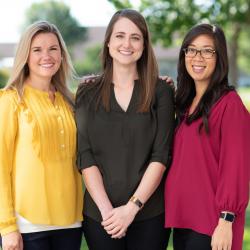 Grilled Fish Tacos with Fresh Peach Salsa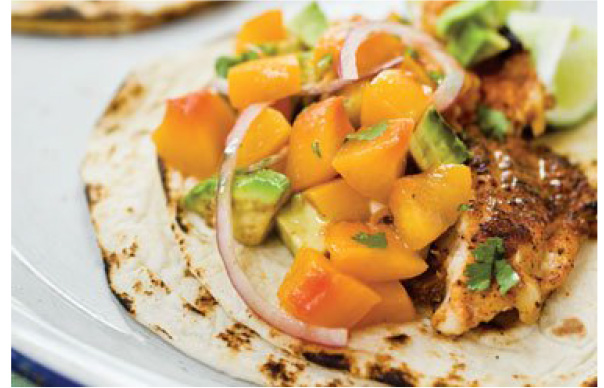 In the mood for shrimp? Give these Chipotle Shrimp Tacos with Avocado Salsa or Grilled Shrimp & Peach Kabobs a try. If salmon sound sounds enticing, you'll love this recipe for Cedar Plank Salmon with Maple Mustard Glaze!
And if you're just feeling indecisive, these Grilled Fish Tacos with Fresh Peach Salsa work wonderfully with any of your favorite varieties of fish! Simply seasoned fish fillets are grilled to perfection and topped off with an amazing, sweet and spicy salsa. Made from a combination of juicy, ripe peaches, creamy avocado, red onion, and fresh lime juice, this salsa is the crowning jewel on these delicious fish tacos.
Grilled Fish Tacos with Fresh Peach Salsa
Adapted recipe & photo courtesy of the Georgia Peach Council
Ingredients:
1 ½ cups diced ripe, fresh peaches

1 ripe avocado, diced

¼ cup thinly sliced red onion

2 Tbsp. chopped fresh cilantro

½ small jalapeno, minced

Juice of 1 lime (about 2 Tbsp.)

1 lb. cod, halibut, salmon or your favorite fish

1 tsp. Canola oil

1 tsp. Each of cumin, brown sugar and ground coriander

8 corn tortillas
Directions:
In a medium bowl, combine the peaches, avocado, onion, cilantro, jalapeño, and lime juice. Refrigerate until ready to serve.

Preheat grill to medium-high heat. In a small bowl, combine cumin, sugar, and coriander. Brush fish with canola oil and sprinkle with spice mixture. Grill fish on well-oiled grates for 3-5 minutes per side, until internal temperature reaches 145F. Char tortillas on grill about 10 seconds per side.

Serve grilled fish in charred tortillas with the peach salsa and any other desired toppings.
Yield: 4 servings
*Per Serving: Calories 320, Total Fat 11g (Saturated 1.5g, Trans 0g), Cholesterol 45mg, Sodium 70mg, Total Carbohydrate 37g (Dietary Fiber 7g, Sugars 7g), Protein 23g, Vitamin A 8%, Vitamin C 25%, Calcium 10%, Iron 10%
*Nutritional values are an approximation. Actual nutritional values may vary due to preparation techniques, variations related to suppliers, regional and seasonal differences, or rounding.
Have a question about nutrition? Our Mealtime Mentors would love to help! Reach out at AskFestivalDietitians.com or find them on Facebook, Instagram and Twitter.

Disclaimer: The information provided here is intended for general information only. It is not intended as medical advice. Health information changes frequently as research constantly evolves. You should not rely on any information gathered here as a substitute for consultation with medical professionals. Information may not be reproduced without permission from Festival Foods. We strongly encourage guests to review the ingredient lists of suggested products before purchasing to ensure they meet individual dietary needs. All products not available at all Festival locations.