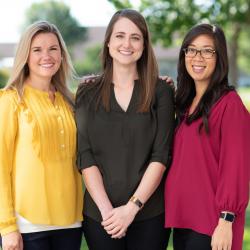 Eat Well at Festival Foods
This week's ad is chock-full of healthy items for your grocery cart; so if you haven't checked it out yet, click here to take a peek.  This week you'll find items like Copper River Salmon, Gold N Plump boneless, skinless chicken breasts, grapes, and potatoes on sale. In addition, you will notice our second Eat Well at Festival Foods ad included as a special feature!  Within the Eat Well portion of the ad we added an awesome dessert recipe for Grilled Peaches or Nectarines (we have these recipe cards available for free in the produce department at all of our stores!).
So what exactly is an "Eat Well at Festival Foods" ad?  In short, it is a special feature in our weekly ad in which Festival's Registered Dietitians work with our buyers and advertising team to offer a "simple solution for a healthier you!"  In store you will find a meal solution card like you see off to the right. The steps to creating a delicious, nutritious, and affordable meal are also outlined below. And the best part is that all of the meal components are on sale!
Keep it simple and begin with a side salad.
Portion control is made easy with our chicken or beef kabobs.
Save some work for yourself and offer our Eat Well Potato Salad as a side dish. Learn more about the nutrition parameters for our Eat Well at Festival Foods salads here.
And finally, Eat Well for dessert with our Grilled Peaches or Nectarines recipe!
If you have any questions, feel free to reach out to us using the "Ask Our Dietitians" feature on our website. And keep an eye out for this week's Eat Well Wednesday blog for another great meal idea!