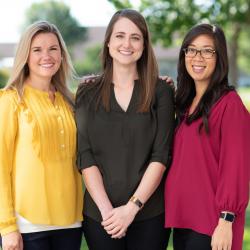 eat brighter!™ with your friends at Festival Foods!
As a Festival dietitian, I am so excited to announce that we have joined the national movement to eat brighter!™ with fresh fruits and vegetables! If you stop by the produce department in one of our 20 Festival Foods stores across the state, you may see some familiar faces by the baby carrots, apples, broccoli and other fresh fruits and veggies. And, if you don't notice them, I promise your kids will! The eat brighter! movement is a unique and powerful partnership with Sesame Workshop and Produce Marketing Association, in collaboration with the Partnership for a Healthier America, that encourages kids ages 2–5 to eat more fresh fruits and vegetables. The initiative allows the produce industry to take advantage of the strength and influence of the Sesame Street brand and characters like Big Bird, Elmo, Cookie Monster, and Abby Cadabby to help deliver messages about fresh fruits and vegetables.
©2014 Sesame Workshop. All Rights Reserved
Click here to view the White House Announcement.
At Festival Foods, we are committed to the health and wellness of our guests and the communities we serve. By joining the eat brighter! movement, we have the opportunity to utilize the lovable and trusted Sesame Street characters in our stores to help promote and increase the consumption of fresh fruits and veggies.
Along with our Sesame Street friends, Festival's dietitians are celebrating National Fruits and Vegetables Month in June by sharing all sorts of fruits and veggies information, fun facts and recipes on our blogs, Facebook, Twitter and Periscope. We will be giving away some great prizes, so make sure to check them out throughout the month of June!
I'll be talking about how to eat brighter! at Festival Foods and what to expect throughout the month on WFRV's Local 5 Live morning show at 9 a.m. Friday, May 29. And at 1 p.m. that day, you can catch our live broadcast on the Periscope app on your iPhone. Just download the app, follow Fest Foods (@festfoods) and get ready with your fruits and veggies questions. If we pick your question during the broadcast, you'll be eligible for a $10 Festival Foods gift card!