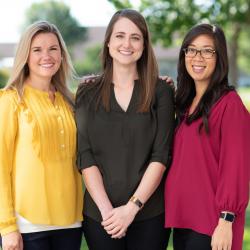 December Recipe Revamp
Roasted vegetables are a welcome addition to the holiday feast, or any meal for that matter. Swap the traditional baked potato with butter and sour cream for ½ cup of roasted red potatoes. This simple change can save 300 calories and 9 grams of fat! So, do you want a recipe? It requires minimal prep and about the same amount of cook time as the traditional baked potato.
Roasted Red Potatoes
Ingredients:
1 + ½ Tbsp Mrs. Dash Original Blend, divided
12 small red potatoes, cut into wedges
2 Tbsp Olive Oil
Directions:
Preheat your oven to 400 degrees. Place olive oil into a large bowl. Add potatoes and 1 tablespoon of Mrs. Dash Original Blend and toss. Place on a cookie/baking sheet, and roast for 30 minutes. Increase heat to 450 degrees. Sprinkle with remaining Mrs. Dash Original Blend and continue to roast for 5 to 10 minutes or until tender and browned. This recipe makes about 6, ½ cup servings at about 150 calories each.