Cooking, mixing and preparing: Tips to making the perfect dishes for your holiday table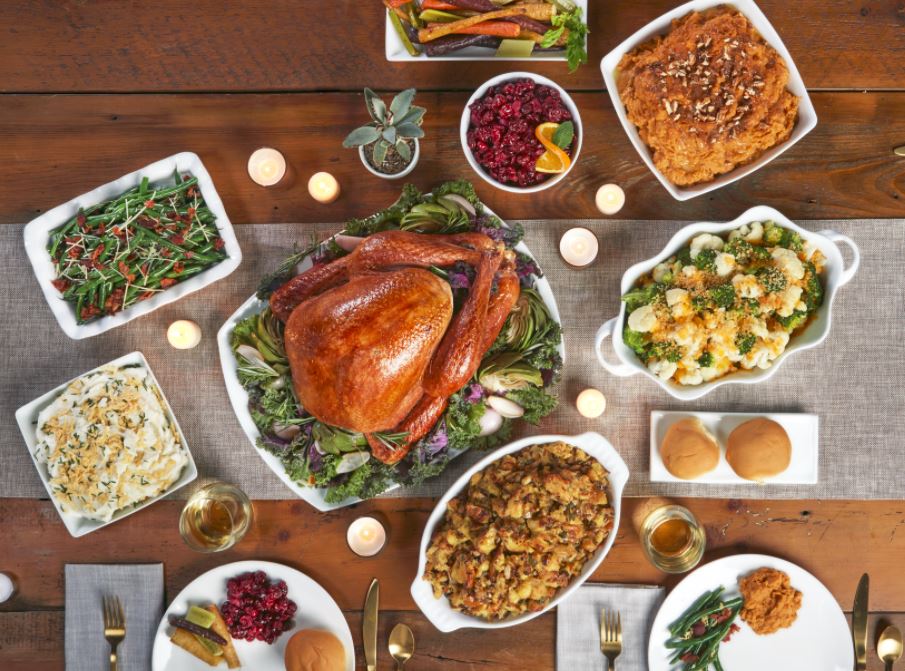 How to make it? How long to cook it? How to prepare it? Those are the questions many face in the kitchen this holiday season. Don't worry! We've got the answers — everything from how to brining to glazing to making a great gravy. Recipes and tips are below!
Easy Gravy
Ingredients
1/2 cup butter
1/2 cup all-purpose flour
3 tablespoons all-purpose flour
1/2 teaspoon black pepper
4 cups pan drippings (add chicken broth or water if needed)
Directions Drain the pan drippings for the roasted turkey through a fine strainer. Let sit and then remove any fat from the top of the drippings. Add in chicken broth or water to make 4 cups if necessary. In a medium saucepan, melt margarine or butter. Add pepper. Add in 1/2 cup flour plus 3 tablespoons; constantly whisk for about 3 minutes over low heat. Slowly add in the 4 cups turkey broth/drippings; whisk constantly over medium-low heat until bubbly and thickened (about 3 minutes).
Grilled Turkey
Ingredients
12 pounds whole turkey
Canola Oil
2 cups chicken broth
2 teaspoons garlic powder
2 teaspoons onion powder
1 teaspoon poultry seasoning
½ teaspoon chopped parsley
1 teaspoon paprika
Prepare an outdoor grill for indirect medium heat, and lightly oil grate. Rinse turkey, and pat dry. Rub Turkey with Canola Oil. Place turkey breast side down on the prepared grill. Sear turkey on both sides until skin is golden to dark brown. In a large roasting pan, mix together chicken broth, garlic powder, onion powder, poultry seasoning, parsley, and paprika. Place turkey breast side down in the roasting pan. Scoop the pan mixture over the turkey. Cover tightly with foil and place on grill. Grill 3 to 4 hours, until the internal temperature of the thigh reaches 180°F (85°C). Remove turkey from grill and let stand 15 minutes before carving.
Best Brine Turkey Recipe! (For best results use a Fresh Turkey or one that has no type of injection) For Frozen Turkey – Begin thawing the turkey in the refrigerator 2 to 3 days before roasting.
Ingredients 1 (14 to 16 pound) frozen young turkey
Brine:
1 gallon vegetable stock (optional half apple juice with ½ vegetable stock or half chicken broth)
1 cup kosher salt
½ cup light brown sugar
1 tablespoon black peppercorns
1 ½ teaspoons allspice berries
1 ½ teaspoons chopped candied ginger
1 gallon heavily iced water
5 gallon bucket
Aromatics:
1 red apple, sliced
½ onion, sliced
2 celery stalks
1 cinnamon stick
1 cup water
3 sprigs rosemary
Fresh sage
Canola oil
Directions: Brine: Combine the vegetable stock, salt, brown sugar, peppercorns, allspice berries, and candied ginger in a large stockpot over medium-high heat. Stir occasionally to dissolve solids and bring to a boil. Remove the brine from the heat, cool to room temperature, and refrigerate.
Preparing the turkey for brining: 8 – 16 hours prior to preparing the turkey; Combine the brine and heavily iced water in the 5-gallon bucket. Place the thawed turkey (with giblets and innards removed) breast side down in brine. If necessary, weigh down the bird to ensure it is fully immersed and cover Refrigerate or set in cool area for 8 to 16 hours, turning the bird once half way through brining.
Preparing the turkey for stuffing: Preheat the oven to 500°F. Remove the turkey from the brine and rinse inside and out with cold water. Discard the brine. Place the turkey on a roasting rack inside a baking pan and pat dry with paper towels.
Aromatics: Combine the apple, onion, celery, cinnamon stick, and 1 cup of water in a microwave safe dish and microwave on high for 5 minutes.
the turkey for cooking: Add steeped aromatics to the turkey's cavity along with the rosemary and sage. Tuck the wings underneath the turkey and coat the skin liberally with canola oil. Roast the turkey on lowest position of the oven at 500°F for 30 minutes. Insert a thermometer into thickest part of the breast and reduce the oven temperature to 350°F. Set the thermometer alarm (if available) to 161°F. A 14 to 16 pound bird should require a total of 2 to 2 1/2 hours of roasting. Let the turkey rest, loosely covered with foil or a large mixing bowl for 15 minutes before carving. DO NOT open oven. Basting is not necessary because the turkey skin will not absorb juices, you will only slow the cooking process. Note: Using pop up thermometers can give you a dry turkey since white meat should be at 161°F and dark at 180°F.
Maple Orange Glazed Turkey Breast
Ingredients
1 clove garlic, minced
1 tablespoon snipped fresh marjoram or 1 teaspoon dried marjoram, crushed
¼ teaspoon salt
¼ teaspoon pepper
¾ cup orange juice
1 tablespoon cornstarch
½ cup maple syrup
1 teaspoon finely shredded orange peel
1 boneless turkey breast (2 ½ – 3 ½ pounds)
2 tablespoons butter, melted
Directions Seasoning mixture: In a small bowl combine garlic, marjoram, salt, and pepper; set aside.
Glaze; In a small saucepan stir together the orange juice and cornstarch. Add half of the seasoning mixture. Cook and stir over medium heat until thickened and bubbly. Cook and stir 1 minute more. Stir in maple syrup and orange peel; set aside.
Turkey: Brush the turkey breast with melted butter and rub with remaining seasoning mixture. Insert a meat thermometer near the center of the breast.
Charcoal grilling; Arrange medium-hot coals around a drip pan. Test for medium heat above the pan. Place the turkey breast directly on the grill rack over the pan. Cover and grill for 2 to 2-1/2 hours or until thermometer registers 165°F. Add coals to maintain heat every 30 minutes. Brush turkey with glaze the last 30 minutes of grilling. Remove meat from grill. Cover meat with foil and let stand for 15 minutes before carving. (The meats temperature will rise 5°F during standing.) Bring any remaining glaze to boiling; pass with turkey.
Gas grilling; Preheat grill. Reduce heat to medium. Adjust for indirect cooking. Grill as above.
Herb Roasted Turkey Breast
Ingredients
1 bone-in turkey breast (5 to 6 pounds)
5 teaspoons lemon juice
1 tablespoon California Olive Ranch® Olive Oil
1 to 2 teaspoons pepper
1 teaspoon dried rosemary, crushed
1 teaspoon dried thyme
1 teaspoon garlic salt
1 medium onion, cut into wedges
1 celery rib, cut into 2-inch pieces
1/2 cup white wine or chicken broth
Directions With fingers, carefully loosen the skin from both sides of turkey breast. Combine lemon juice and oil in a small bowl. Brush lemon juice mixture under the skin. Combine the pepper, rosemary, thyme and garlic salt in a small bowl. Rub seasoning mixture over turkey. Place onion and celery in a 3-qt. baking dish. Top with turkey breast, skin side up. Pour wine over turkey. Bake, uncovered, at 325°F for 2 to 2-1/2 hours or until a meat thermometer reads 170°F. Baste turkey every 30 minutes with pan drippings. (Cover loosely with foil if turkey browns too quickly.) Cover and let stand for 15 minutes before carving.