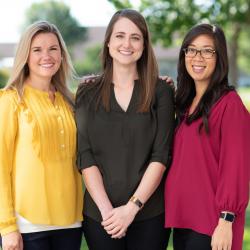 Cinnamon Sugar Candied Nuts
Looking for another quick and easy holiday gift idea? Sweet, crunchy and spiced just right, today's Cinnamon Sugar Candied Nuts are a nutritious and absolutely delicious treat that everyone will enjoy! Simply place cooled nuts in a clear container, top with a pretty bow and voila! – The perfect homemade gift. Or better yet, set this yummy treat out at any holiday party. Just be prepared … these nuts will be gone before you can say, "Eggnog!"

WARNING: This recipe will make your house smell amazing.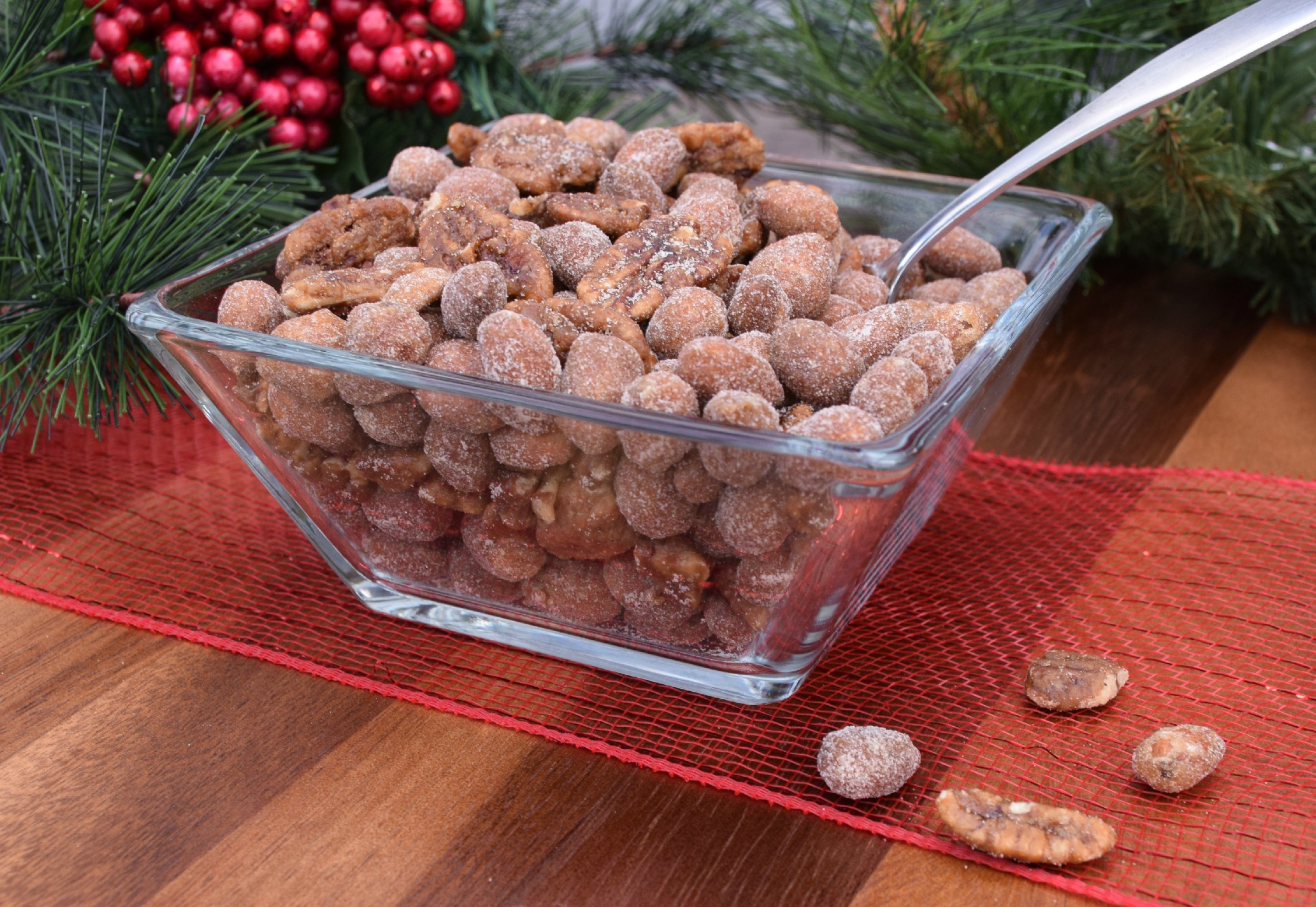 Looking for another quick and easy holiday gift idea? Sweet, crunchy and spiced just right, today's Cinnamon Sugar Candied Nuts are a nutritious and absolutely delicious treat that everyone will enjoy! Simply place cooled nuts in a clear container, top with a pretty bow and voila! – The perfect homemade gift. Or better yet, set this yummy treat out at any holiday party. Just be prepared … these nuts will be gone before you can say, "Eggnog!"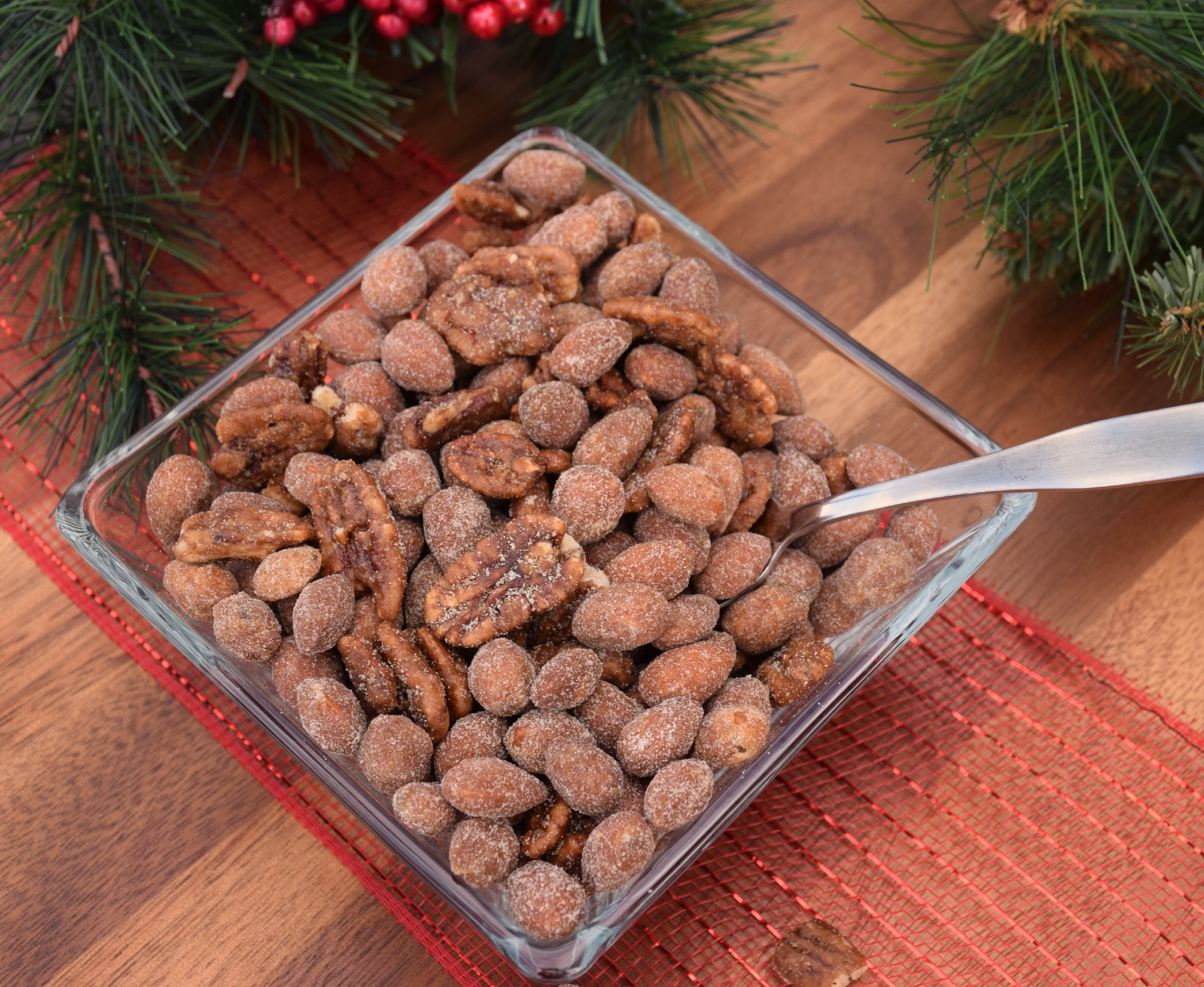 Cinnamon Sugar Candied Nuts
Ingredients:
Nonstick cooking spray
2 egg whites
1 tsp. vanilla extract
2 tsp. water
1 cup sugar
1 tsp. salt
1 ½ tsp. cinnamon
22 oz. almonds or pecan halves (or a mix of both)
Directions:
Preheat oven to 250°F. Line a large rimmed baking sheet or a jelly roll pan with parchment paper and lightly spray with nonstick cooking spray.
In a large mixing bowl, beat the egg whites, vanilla and water until frothy.
In a large zip-top bag, mix together the sugar, salt and cinnamon.
Add the nuts to the egg whites, stir to coat evenly. Then add them to the bag of sugar mixture and shake until coated. Spread out evenly on the prepared baking sheet.
Bake for one hour, stirring every 15 minutes. Let the nuts cool completely on the baking sheet.
Serve in a bowl or package in a bag and give as a gift.
Yield: 24 Servings
*Per Serving: Calories 200, Total Fat 16g (Saturated 1.5g, Trans 0g), Cholesterol 0mg, Sodium 105mg, Total Carbohydrate 13g (Dietary Fiber 3g, Sugars 10g), Protein 4g, Vitamin A 0%, Vitamin C 0%, Calcium 4%, Iron 4%
*Nutritional values are an approximation. Actual nutritional values may vary due to preparation techniques, variations related to suppliers, regional and seasonal differences, or rounding.
Have a question about nutrition? Our Mealtime Mentors would love to help! Reach out at AskFestivalDietitians.com or find them on Facebook, Instagram, Pinterest and Twitter.

Disclaimer: The information provided here is intended for general information only. It is not intended as medical advice. Health information changes frequently as research constantly evolves. You should not rely on any information gathered here as a substitute for consultation with medical professionals. Information may not be reproduced without permission from Festival Foods. We strongly encourage guests to review the ingredient lists of suggested products before purchasing to ensure they meet individual dietary needs. All products not available at all Festival locations.