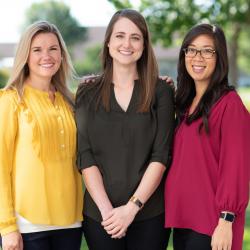 Black Bean Hummus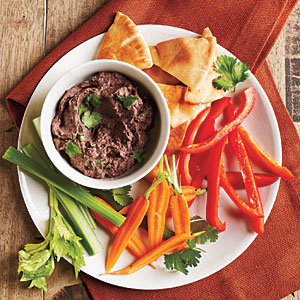 Hummus has become one of my family's favorite better-for-us snacks. You will almost always find a bowl of this creamy, naturally dairy free dip served with fresh cut vegetables, tortilla chips and rice crackers as an appetizer at any of our family gatherings. Hummus is the perfect party dish! It's easy to make (or buy if you're in a pinch), comes in a variety of flavors, like Roasted Red Pepper, Basil Pesto, and Roasted Garlic, and is a fun snack for kids and adults. Traditionally, hummus is made with chickpeas, also known as garbanzo beans; however, this homemade hummus recipe offers a fun twist, using fiber- and protein-rich black beans.
Sides, Snacks & Sweets:
Black Bean Hummus
Recipe and photo adapted from Cooking Light
Ingredients:
½ cup chopped fresh cilantro, divided
2 Tbsp. tahini
2 Tbsp. water
2 Tbsp. fresh lime juice
1 Tbsp. extra-virgin olive oil
¾ tsp. ground cumin
⅛ tsp. salt
1 (15 oz.) can no-salt-added black beans, rinsed and drained
1 clove garlic, peeled
Pita chips, crackers, tortilla chips, celery sticks, baby carrots, bell pepper or cucumber slices, optional for dipping
Directions:
Place ¼ cup cilantro and remaining 8 ingredients in a food processor. Process until smooth.
Spoon into a bowl and sprinkle with remaining ¼ cup cilantro. Serve with desired sides.
Yield: 8 Servings *Per Serving: Calories 80, Total Fat 4g (Saturated 0.5g, Trans 0g), Cholesterol 0mg, Sodium 45mg, Total Carbohydrate 9g (Dietary Fiber 3g), Protein 4g, Vitamin A 2%, Vitamin C 2%, Calcium 0%, Iron 2% *Nutritional values are an approximation. Actual nutritional values may vary due to preparation techniques, variations related to suppliers, regional and seasonal differences, or rounding.
Emily Schwartz is a Registered Dietitian Nutritionist (RDN) with Festival Foods.