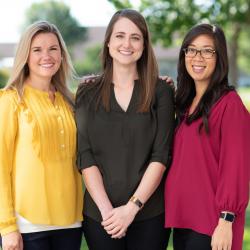 20 Minute Meals: Veggie Fried Rice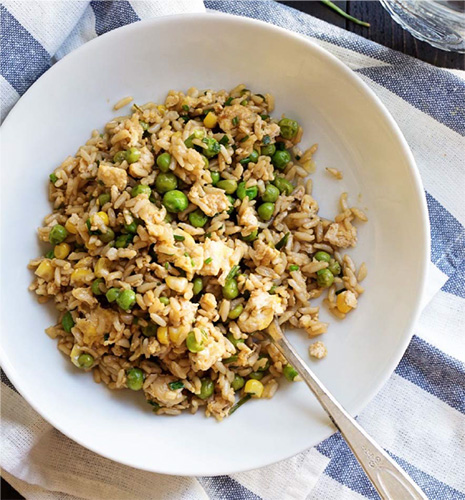 It's no secret that I absolutely love Asian food! And fried rice is no exception. Getting take-out fried rice can be uber-high in sodium and fat, so I like to make my own at home. My version of fried rice is super simple and packed with veggies. It boasts sesame oil and soy sauce, which are two key ingredients in most Asian dishes because they provide that distinct flavor and aroma we are looking for. Another staple for this dish? Eggs. Scrambled to perfection, eggs bring it all together for one tasty weeknight (or weekend) dish!
Veggie Fried Rice
Recipe and photo adapted from Pinch Of Yum
Ingredients:
1 Tbsp. canola oil
1 Tbsp. sesame oil
1-inch piece fresh ginger, grated or minced
3 large eggs
4 cups brown rice, cooked
2 cups frozen peas and carrots
½ Tbsp. rice vinegar
2-3 Tbsp. low sodium soy sauce (or tamari for gluten free)
Directions:
Heat canola oil in a large pan or wok over medium heat. Add the garlic cloves and ginger and stir fry for 30-60 seconds. Crack the eggs directly into the pan and stir them for about 1 minute.
Add the rice and stir fry for 2-3 minutes; add the sesame oil and turn the heat up to medium-high.
Add the frozen peas and carrots, vinegar and soy sauce and stir fry for another 1-2 minutes. Remove from the heat and serve!
Yield: 5 servings
*Per Serving: Calories 300, Total Fat 10g (Saturated 2g, Trans 0g), Cholesterol 110mg, Sodium 480mg, Total Carbohydrate 43g (Dietary Fiber 5g, Sugars 3g), Protein 10g, Vitamin A 20%, Vitamin C 4%, Calcium 4%, Iron 10%
*Nutritional values are an approximation. Actual nutritional values may vary due to preparation techniques, variations related to suppliers, regional and seasonal differences, or rounding.
Have a question about nutrition? Our Mealtime Mentors would love to help! Reach out at AskFestivalDietitians.com or find them on Facebook, Instagram and Twitter.

Disclaimer: The information provided here is intended for general information only. It is not intended as medical advice. Health information changes frequently as research constantly evolves. You should not rely on any information gathered here as a substitute for consultation with medical professionals. Information may not be reproduced without permission from Festival Foods. We strongly encourage guests to review the ingredient lists of suggested products before purchasing to ensure they meet individual dietary needs. All products not available at all Festival locations.