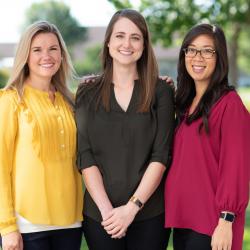 20 Minute Meals: Tex-Mex Chicken Soup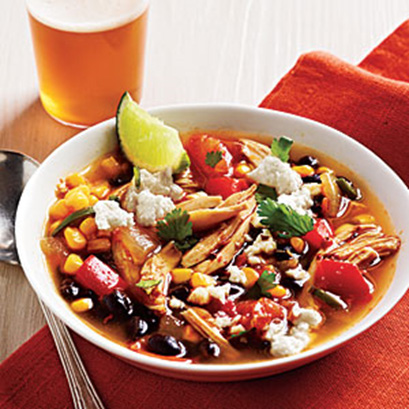 Looking for a quick, delicious meal? Check out this Tex-Mex Chicken Soup from the Festival Dietitians! It is a no fuss, nutritious soup made from chicken, beans and salsa. It literally takes 2 minutes of prep and 15 minutes to cook, and dinner is on the table – like magic! Stick this recipe in your back pocket and use it any time you are in the mood for something this good!
Tex-Mex Chicken Soup
Photo from Eat It Soup
Ingredients:
1 whole rotisserie chicken, meat pulled and shredded (or 2 cups cooked chicken breast)
2 (16 oz.) jar salsa, medium
1 (32 oz.) container low sodium chicken broth
1 (15 oz.) can black beans, drained and rinsed
1 (15 oz.) can pinto beans, drained and rinsed
½ tsp. ground black pepper
Fresh parsley, cilantro, cheese and/or lime juice for garnish (optional)
Directions:
Place large stock pot on medium-high heat.
Add all ingredients and bring to a boil, then reduce to a simmer.
Allow to cook 10-15 minutes, until heated through. Taste and season, if necessary.
Garnish and serve!
Yield: 8 servings
*Per Serving: Calories 220, Total Fat 3.5g (Saturated 0.5g, Trans 0g), Cholesterol 60mg, Sodium 690mg, Total Carbohydrate 24g (Dietary Fiber 3g, Sugars 6g), Protein 22g, Vitamin A 0%, Vitamin C 0%, Calcium 4%, Iron 6%
*Nutritional values are an approximation. Actual nutritional values may vary due to preparation techniques, variations related to suppliers, regional and seasonal differences, or rounding.
Have a question about nutrition? Our Mealtime Mentors would love to help! Reach out at AskFestivalDietitians.com or find them on Facebook, Instagram and Twitter.

Disclaimer: The information provided here is intended for general information only. It is not intended as medical advice. Health information changes frequently as research constantly evolves. You should not rely on any information gathered here as a substitute for consultation with medical professionals. Information may not be reproduced without permission from Festival Foods. We strongly encourage guests to review the ingredient lists of suggested products before purchasing to ensure they meet individual dietary needs. All products not available at all Festival locations.