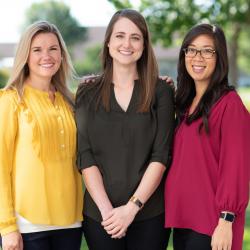 20 Minute Meals: Summer Corn and White Bean Soup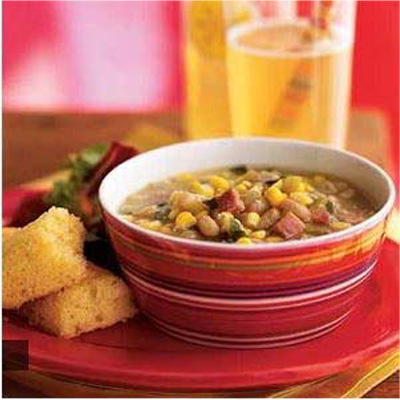 I know when most of us think summertime, we don't think about soups. But this soup features fresh corn, which is plentiful this time of year! Although the corn is the star of the show in this recipe, we also have some items from our Cantry®. I am a member of the Cans Get You Cooking® RD Can-bassador Council, so my ears perk up whenever I hear canned foods are being used in a recipe, especially when it's navy beans and green chiles … two of my favorites! And this recipe is SO simple, with hardly any prep work required. Whip up a pot on Monday and enjoy the comforting flavors all week long! Oh, and don't forget the cornbread!
20 Minute Meals:
Summer Corn and White Bean Soup
Recipe and picture adapted from Cooking Light
Ingredients:
1 Tbsp. canola oil
1 cup sliced green onions
¾ cup cooked ham, chopped (about 4 oz.)
3 cups fresh corn kernels (about 5 ears)
½ tsp. salt
2 (15 oz.) cans navy beans, rinsed and drained
2 (14 oz.) cans low-sodium chicken broth
2 (4.5 oz.) cans chopped green chilies, undrained
Toppings: Nonfat plain Greek yogurt, shredded cheese
Directions:
Heat canola oil in a large pot over medium heat. Add onions and ham, and cook 3 minutes, stirring frequently. Stir in corn and remaining ingredients. Bring to a boil; reduce heat, and simmer 5 minutes or until thoroughly heated.
Serve in bowls and garnish with a dollop of plain nonfat Greek yogurt and a sprinkle of shredded cheese.
Yield: 6 Servings *Per Serving: Calories 278, Total Fat 5g (Saturated 1g, Trans 0g), Cholesterol 16mg, Sodium 590mg, Total Carbohydrate 43g (Dietary Fiber 10g), Protein 17g, Calcium 150mg, Iron 4mg * Nutritional values are an approximation. Actual nutritional values may vary due to preparation techniques, variations related to suppliers, regional and seasonal differences, or rounding.
Brittany Nikolich is a Registered Dietitian Nutritionist (RDN) with Festival Foods and is certified by the State of Wisconsin.