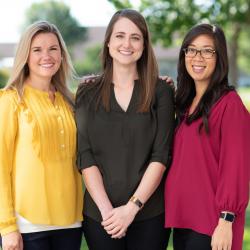 Ricotta-Stuffed Eggplant with Tomato Sauce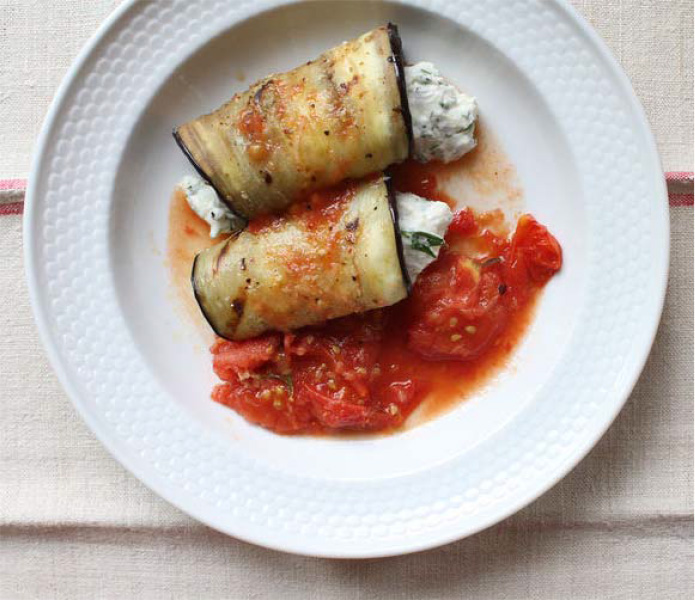 I have never been a big eggplant fan, but I decided to give it another try with this recipe for Ricotta-Stuffed Eggplant with Tomato Sauce. And boy, was I pleasantly surprised! The ricotta mixture is so smooth and creamy, and the tomato sauce is robust and delicious. Since the eggplant is grilled, it gives that delicious charred flavor, which brings this dish together. If you're a little afraid to give eggplant a try, like I was, this is the dish to cure those fears!
Ricotta-Stuffed Eggplant with Tomato Sauce
Recipe and photo adapted from Food 52
Ingredients:
3 plum tomatoes, quartered
1 garlic clove, minced
2 rosemary sprigs
¼ tsp. red pepper flakes
3 Tbsp. olive oil, divided
Dash coarse salt and ground black pepper
1 medium eggplant (about 1 lb.), cut into ¼ inch slices
15 oz. container part-skim ricotta cheese
½ cup parsley, chopped
Directions:
Preheat grill to medium. Combine tomatoes, garlic, rosemary, red pepper flakes and 1 Tbsp. olive oil in a large bowl; season with salt and pepper and toss to combine. Place a large rectangle of foil on the counter and pour the tomatoes on top. Gather and crimp edges of foil, sealing to form a packet.
Season eggplant slices with salt and pepper and brush with the remaining oil. Place tomatoes in foil packet on the grill for about 12 minutes total, shaking regularly. Add eggplant slices to the grill and cook 3-4 minutes per side, until charred and tender.
Combine ricotta and parsley in a small bowl and season with salt and pepper.
To assemble, place ¼ cup ricotta mixture on eggplant slices. Starting with the narrower side, roll the eggplant around filling. Transfer cooked tomatoes to a bowl and mash with the back or a fork to make a sauce. Serve stuffed eggplant with tomato sauce.
Yield: 4 servings
*Per Serving: Calories 290, Total Fat 19g (Saturated 7g, Trans 0g), Cholesterol 35mg, Sodium 230mg, Total Carbohydrate 16g (Dietary Fiber 5g, Sugars 6g), Protein 14g, Vitamin A 30%, Vitamin C 35%, Calcium 30%, Iron 8%
Have a question about nutrition? Our Mealtime Mentors would love to help! Reach out at AskFestivalDietitians.com or find them on Facebook,Instagram and Twitter.

Disclaimer: The information provided here is intended for general information only. It is not intended as medical advice. Health information changes frequently as research constantly evolves. You should not rely on any information gathered here as a substitute for consultation with medical professionals. Information may not be reproduced without permission from Festival Foods. We strongly encourage guests to review the ingredient lists of suggested products before purchasing to ensure they meet individual dietary needs. All products not available at all Festival locations.