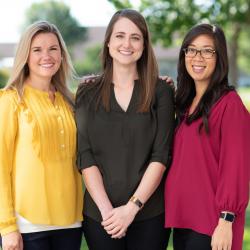 Italian Sausage Ragu with Polenta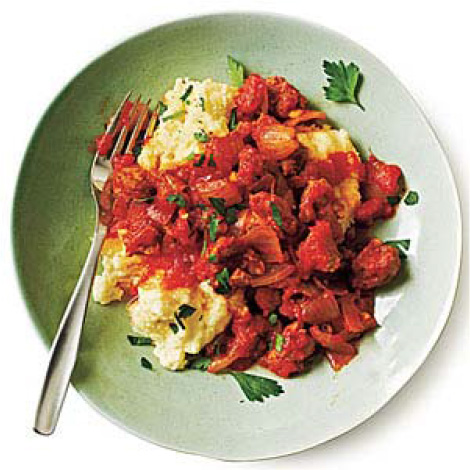 Have you ever tried polenta? It is a deliciously creamy side dish made from corn meal that is often served Italian-style. In this recipe, we use instant polenta, which cooks in less than 5 minutes! We are pairing it with a tangy tomato sauce and robust turkey sausage for a perfectly simple Italian meal! Prep and cook time is minimal, so you can enjoy more time at the table. Bon appetit!
Italian Sausage Ragu with Polenta
Photo from Cooking Light
Ingredients:
1 cup instant polenta
4 cups skim milk + ¼ cup, divided
Salt, to taste
¼ tsp. ground black pepper, divided
½ cup shaved parmesan cheese, divided
1 Tbsp. olive oil
3 cloves garlic, minced
1 lb. ground turkey
Italian sausage
1 jar low sodium marinara sauce
1 Tbsp. fresh oregano, chopped (or 1 ½ tsp. dried oregano)
1 ½ Tbsp. fresh basil, chopped, divided (or 2 tsp. dried basil)
Directions:
Cook polenta according to package directions, with 4 cups milk. When cooked, season lightly with salt and pepper, and stir in ¼ cup parmesan cheese.
While polenta cooks, heat 1 Tbsp. olive oil in large skillet to medium-high heat. Add garlic and cook 60-90 more seconds. Add Italian sausage to pan and cook until browned. Add marinara sauce and cook until heated through. Season with oregano, 1 Tbsp. basil and pepper.
Stir remaining ¼ cup milk in to polenta (it tends to thicken as it sits).
Divide polenta equally in to 8 bowls; top with sausage/tomato mixture. Top with parmesan cheese and garnish with remaining fresh basil.
Yield: 8 servings
*Per Serving: Calories 290, Total Fat 11g (Saturated 1.5g, Trans 0g), Cholesterol 40mg, Sodium 560mg, Total Carbohydrate 31g (Dietary Fiber 3g, Sugars 11g), Protein 19g, Vitamin A 10%, Vitamin C 6%, Calcium 25%, Iron 15%
Have a question about nutrition? Our Mealtime Mentors would love to help! Reach out at AskFestivalDietitians.com or find them on Facebook, Instagram and Twitter.
Disclaimer: The information provided here is intended for general information only. It is not intended as medical advice. Health information changes frequently as research constantly evolves. You should not rely on any information gathered here as a substitute for consultation with medical professionals. Information may not be reproduced without permission from Festival Foods. We strongly encourage guests to review the ingredient lists of suggested products before purchasing to ensure they meet individual dietary needs. All products not available at all Festival locations.